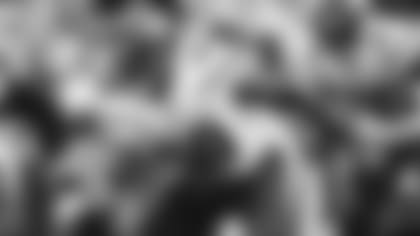 The Jets' offensive line — like many other position groups this season — has dealt with adversity. From nagging injuries to an infusion of new players, the search for consistency has been an ongoing challenge. One encouraging presence has been the veteran left tackle Kelvin Beachum.
"Our respect level for him is extremely high," Coach Adam Gase said. "It comes from what I've witnessed this year of him playing through a lot of the things he's endured through a game and refused to come out of the game and kept fighting through everything. Things like this, of him refusing to be held out of practice and wanting to be out there and wanting to see how much he can do. He's stepped up for us big time."
Beachum, an eight-year veteran, helped the team to a win in Week 6 against the Cowboys, where quarterback Sam Darnold returned to lead the team. With Beachum helping to provide protection, Darnold completed 23 of 32 passes for 338 yards, 2 touchdowns and 1 interception, and was sacked only two times. But the 6-3, 308-pound lineman ended up sustaining an ankle injury against Dallas and missed the next three games. His absence was felt. In that time, Weeks 7-9, Darnold was sacked a combined 12 times, and threw 8 interceptions.
"Anytime you have a veteran player that's played extremely well over his career, I'm sure there's a hidden confidence there that really is never said by Sam or anybody else upfront," said Gase. "You trust him, you know he's extremely reliable, you know he's going to execute his assignment, and he's going to help other guys up front. I think him and Alex [Lewis] together are a very good combination because both are highly intelligent guys and both can communicate well. They work well together. I think he's a guy that's played a lot of football, he's seen a lot of different blitzes and he can help our group in a lot of different ways."
Beachum's return to the starting lineup came in Week 10 when the Jets defeated their local rivals, the New York Giants. He made an immediate impact. The Green & White won, 34-27, as the offense put up 294 total yards -- without making a turnover. Beachum and the team followed up their solid performance against Big Blue with a victory last week over the Redskins, amassing 400 total yards of offense, with a season-high 115 yards rushing.
"I've been saying this for the last couple of weeks, it takes 11 guys," Beachum said. "And when 1 guys are consistent, and are consistent throughout the game, it puts us in a position to be successful.It takes pressure off of our defense, it takes pressure off our special teams. When we're able to play complementary football, it puts us in a great position as a team to win."
After re-aggravating his previous ankle injury in Washington, Beachum is working to be ready when the Jets (3-7) will try to extend their two-game winning streak, facing the Oakland Raiders (6-4) at MetLife Stadium on Sunday.
See Top Photos from the Practice Field Leading Up to the Matchup Against the Raiders