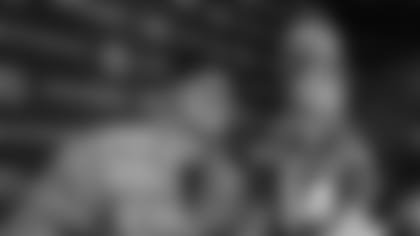 Jets House has moved into tradition mode.
The two-day can't-miss pre-Super Bowl bash for Jets followers of all ages was held over the weekend for the seventh consecutive year and for the fourth time at Spin New York. Lots of old familiar faces were joined by new participants among fans, current players and Jets legends for four sessions of food, drink, football talk and activities — which at Spin, of course, means plenty of ping pong.
"It's just fun, and it's another way to engage and have fun with kids, especially," said Bart Scott, former Jets linebacker, current ESPN Radio and SNY talker and frequent contributor to Jets House's family atmosphere. "I like that the Jets make us accessible to the fans where they can reach out and touch us, not like some guarded thing where we're behind a table and that's it."
Scott even recounted his participation in the annual ping pong tourney.
"A couple of years ago, I was real serious," he said. "I actually got into the tournament and lost by like a point to the due that won. I play every once in a while but I grew up with a ping pong table in my back yard."
Jets defensive back Darryl Roberts has also made the scene the last several Januaries.
"It's always cool to see people come back and support us and show love," Roberts said. "You get to sign autographs, take pictures with people, just interact. And I was over there watching them play me on Madden. That's pretty dope."
Two always popular alumni wide receivers, Wayne Chrebet and Laveranues Coles, appeared at Sunday's morning session.
"It's great. We got in an hour ago, and the fans are great as always," Chrebet said. "And anytime Laveranues comes to town, we spend a lot of time together. He's my guy, my favorite."
There were plenty more players to go around for the fans at the either sold-out or virtually sold-out sessions. QB Sam Darnold, in keeping with the tradition theme, made his second consecutive Jets House stop with extended autograph sessions and ping pong with the younger fans of the Green & White. Other current Jets in attendance included C.J. Mosley, Brandon Copeland, Jamison Crowder, Brian Winters, Chris Herndon, Nate Hairston, Bless Austin, Trenton Cannon, Blake Cashman, Steve McLendon and Nathan Shepherd.
As for the Legends, it was a mix of returnees such as Nick Mangold and Anthony Becht with some first-time Jets House visits from Jason Fabini and Braylon Edwards.
"We started before the Super Bowl at MetLife Stadium, when it was a necessity for us to give fans access to something to celebrate their passion for the team," said Jeff Fernandez, the Jets' vice president of corporate partnerships + business ventures. "It then developed into 'This could be an interesting idea, let's see if it's a concept that can take root.' And the fans have supported it year after year after year. So now it's entered into this tradition, it's a ritual. There are people who've come to all seven Jets Houses and they've spread the word to other younger millennials, who are being introduced to Jets fandom."
Fernandez pointed to several entities that have helped make Jets House the sustainable success that it's been. One is the Spin team that supplies the venue. "Spin does a great job," he said. "We had two major events Saturday, then you walk in first thing Sunday morning and it's ready to go. Spin shares our value of customer service where we're trying to make the experience of any Jets event the best it possibly can be for season ticket holders and fans."
Also providing great support to the event are its presenting and supporting partners. Jets House was presented by Green Giant, and was supported by Corona Extra, Foodtown, JetBlue, BetMGM and Microsoft Surface.
The other team is the Jets' ownership and organization. "The staff and resources we put into this, it's truly something, from public relations to IT to event marketing. We've got a lot of volunteers in the organization so it's a well-oiled machine and a very well-staffed event with a lot of people giving up time to be here."
Of course, a party could be held anywhere and draw a following, but the players bring that extra touch to the festivities. So say the young and old who were in "the house" this weekend.
"This has been my favorite fan event so far," said now second-year LB Blake Cashman of his first Jets House experience. "It's a good way for everyone to loosen up and be themselves, because I think fans want to see their personalities. It's a great way to mingle with them, do fun games and different events like we did up on stage. I think it's a fantastic event."
And Scott worked hard to give the fans what they wanted when he was on the field and is working just as hard in his post-football career to do the same.
"I wouldn't be here without them, right?" Scott said of all the green-and-clad partygoers around him. "They never forget. Fans love heart. And some of the best times of my life were when I was in a Jets uniform. They embraced me from the start, they respected me. We didn't finish the deal but they respected the way I played, I gave them all I got, and that's appreciated in this organization."