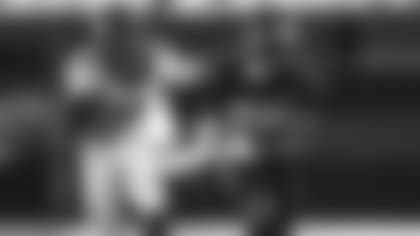 The game was a strange brew for the Jets' defense.
The 37-28 loss to the Broncos was a game in which they stopped the run at times, only to have Melvin Gordon gash them at other times. It was a game in which big stops — three interceptions and a three-and-out, all in a midgame span of seven series — alternated with Broncos big plays. A game in which Denver QB Brett Rypien started out looking like his uncle, Mark Rypien, playing for the 1991 Washington Redskins, in completing 16 of his first 22 passes and opening a 27-16 lead, only to look like the first-time NFL starter he was in throwing costly interceptions on back-to-back truncated series.
For a game like that, it's only appropriate that Jets CB Pierre Desir was one of the stars in defeat.
"We beat ourselves," Desir said. "We let this one slip away, from myself giving up big plays to costly penalties that added up and cost us the game, we let this one slip away."
The big plays in question were the visitors' two touchdown passes thrown by Rypien. On the first score, Rypien's long ball passed between Desir's hands as he was in good position to break up or pick off the pass. Instead, rookie WR Jerry Jeudy gathered in the ball that Desir waved at and backed into the end zone to complete the 48-yard score for a 10-7 Denver lead.
The second pass was a shorter toss to WR Tim Patrick, who took the ball away from Desir and crossed the goal line for the TD that opened the Broncos' edge to 24-16 late in the third quarter.
But Desir made up for those coverage mistakes with two big takeaway plays of his own. The first was a tiptoe sideline snare, initially ruled incomplete by referee Jerome Boger's crew but reversed to an interception after head coach Adam Gase's replay challenge. That came in the second quarter and started the Jets on their way to a Sam Ficken field goal for a 10-10 tie.
Pick No. 2 was even better, as Rypien threw the pass right to Desir, No. 35 who appropriately took the pick 35 yards for a TD that sliced the visitors' advantage to 27-25 early in the final frame.
"We've got to continue to take the ball away," defensive coordinator Gregg Williams said before the game. "We've got to score some on defense, too. Last year we had some really good success of that, and we've got to have some more success of that. Then regardless of wherever we take over, we've got to force people into 3-and-outs, we've got to get them to third down, and then we've got to make them kick field goals."
That didn't happen enough in this one. Partly that was faulty third-down defense, against which the Broncos converted six of 12 third downs to keep drives alive. And their 359 yards wasn't too bad ... until you added in 88 more yards on seven penalties against the defense, all of which moved the chains for the visitors.
Gase was really unhappy over his defenders' major penalties, with three flags being thrown for roughing the passer, two for unnecessary roughness and one for a Quinnen Williams facemask on Rypien that turned a drive-ending sack with five minutes to play and the Jets ahead, 28-27, into a drive-extending play that led to Brandon McManus's third field goal of the night and a 30-28 lead that the Broncos held onto.
"Really, it's just decision-making. We've got to make the right decisions," Gase said of all the penalties against his team and especially his D. "We can't keep doing the same thing over and over and over again. We need to either put different guys in there or we've got to look at as many options as possible as far as what we need to do to get that corrected."
"As a defense, you have to be more alert, you can't play scared," Desir said of the flagfest. "You've got to make sure your technique is clean, and know that the refs are going to be looking at those plays in the coming weeks. So we've just got to clean up our technique and play smart."
Anything else the Jets' defense has to focus on, Desir was asked.
"It's just to work and not beat ourselves," he said. "This game showed it. We had it, we let it slip away, and we beat ourselves tonight."