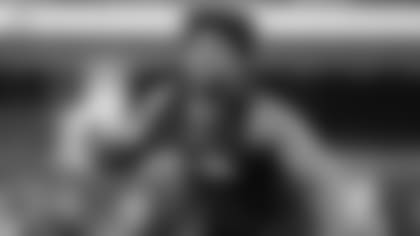 In almost every mock draft, pundits have the Jets selecting an offensive tackle at No. 13 overall -- either Ohio State's Paris Johnson or Georgia's Broderick Jones.
NBC's Peter King placed his vote for Johnson, who has experience at left tackle (2022) and right guard (2021).
"I'd try to get a player like him, who has played at a very high level at a good program and has played a lot of football," King said. "He's also a really solid guy. What I think, if I'm Joe Douglas, I'm putting a very significant part of my grade on person, attitude, work ethic and all that. What you hear about Paris Johnson is totally off the charts in all aspects. Paris Johnson, Will Anderson, you want a guy who is revered by his coaching staff and his teammates. Paris Johnson was at Ohio State, so I'd be looking for that a lot this year."
Johnson established a foundation in high school that is "dedicated to empowering and serving disabled veterans and disadvantaged student-athletes with dignity and respect." He's raised more than $10,000 to serve more than 100 veterans and 350 student-athletes. On the field, he's allowed 3 sacks in 31 games, according to Pro Football Focus.
Sirius XM's Pat Kirwan believes the Jets will have a good option of tackle in the first round with potentially four quarterbacks to be selected in the top 10. For options not in Round 1, he likes Dawand Jones, Johnson's teammate, and Syracuse's Matt Bergeron.
"Really tough, competitive," Kirwan said of Bergeron, who was the first true freshman to start a game at OT for the Orange since 2002. "He was really good at the Senior Bowl every day."
King and Kirwan are both in favor of selecting a tackle at No. 13, adding to an offensive line that has Duane Brown (shoulder), Alijah Vera-Tucker (triceps) and Mekhi Becton (knee) on the mend after season-ending injuries. The Jets OL could be blocking for a surefire Hall of Fame QB Aaron Rodgers, who said he intends to play for the Jets in 2023 on The Pat McAfee Show in March.
"I would do it for a lot of reasons," Kirwan said. "You want to be a great running team. I think Aaron Rodgers understands that and if he's really smart and knows his history, he's going to remember when Elway finally got a running game. He got over the hump and won a couple extra Super Bowls. I think that will happen."
He added: "I think you'll get your choice. There will at least two left on the board when you go. You've done your homework, you pick the right one."