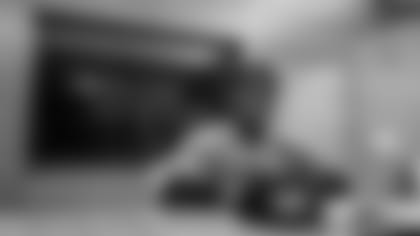 Carl Lawson's got the personality to make it in the New York media market. Now does he have what it takes mentally and physically to become the pass rusher the Jets have been missing on their defense for a while? Respectfully, he thinks so.
"I'm looking forward to building with the New York Jets," said Lawson, the former Cincinnati defensive end who met with reporters this afternoon after signing his unrestricted free agency deal with the Green & White.
"I love Madden because I love building teams," he said, adding that as a fifth-year man in the NFL, "I get to build, I get to grow, I get to improve. I love being in the weightroom, I love working out. Even when I was injured, I loved the fact that people doubted you — I love all that stuff.
And the Jets are excited to have the 6-2, 265-pound DE in the fold. Lawson's sack numbers in four seasons with the Bengals were modest, 5.0 sacks/season, but the secret is that for one of the NFL's lowest-ranked sack defenses, Lawson was among the league leaders in producing hits on the quarterback. Just last season he led all pro D-linemen with 32 QB hits, and his 54 hits the past two seasons trail only the Chargers' Joey Bosa on the DL.
Lawson politely declined to speculate about rumors that the Bengals didn't want to lose him but couldn't keep him. But he was happy to talk about what attracted him to the Jets.
"I had a million reasons for coming here ... well, not a million but, you know, a bunch of reasons for coming here," he said in his engaging manner. One reason was because his mother was born in New Jersey and his father hails from New York. Another is to play on the same line with and perhaps line up next to 5-technique DL Quinnen Williams: "That was another attractive option because he's a hell of a player."
But high on the list of attractions to the Jets was the chance to play for new head coach Robert Saleh, on whom Lawson did his homework.
"I looked up some stuff on YouTube about Coach Saleh and I heard some stuff around the league," he said. "Listening to some interviews, I came away with how impressive he was. Even in a video, he felt like he was talking to me. And then there was availability at the spot [on the D-line], so those were the first two things that really attracted me here."
Playing for Saleh and these new-look Jets, Lawson said, "I think it's going to do wonders for my career. I'm excited to play here, I'm excited to be a Jet. I'm coming in with all the optimism in the world."