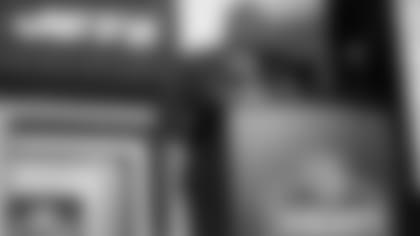 Chad Pennington is retired from football as a player but not as an observer. Through his NFL Legends community and youth football connections, he worked the NFL Combine in February and was on the scene at the recent NFL Annual Meetings. And as the Jets' former first-round pick and QB starter from 2000-07, he remains an interested observer of the Green & White.
While wearing all those hats, Pennington was asked by Eric Allen of newyorkjets.com in Phoenix how he felt a selection of Oklahoma QB Kyler Murray by Arizona at No. 1 would affect the Jets two spots lower in the NFL Draft later this month.
"Obviously if the quarterback goes within the first two picks you have a better chance of getting that edge rusher, whether it be Josh Allen, whom I'm familiar with, living in Lexington and with Josh playing at the University of Kentucky, or Nick Bosa," Pennington said. "It's going to be interesting to see what happens. I think the Jets have made some really really good moves in the offseason, and I think the fan base is starting to get rejuvenated and excited and to see what these guys can do."
Allen is the 6'5", 260-pound LB who improved his sack totals in four Wildcats seasons from 0.5 as a freshman to 7.0 as a sophomore and again as a junior to a whopping 17 sacks last season — the most in a season by an SEC defender since the NCAA began tracking sacks in 2000. Several Allen traits have impressed Pennington.
"First of all, I would say his work ethic. Coach [Mark] Stoops and that coaching staff did a great job of developing Josh. He stayed the course and just kept getting better and better each year," he said. "What he brings to the table is that element of being able to get around the edge, create that pass rush without having to do anything crazy with your defensive scheme, where now you can focus more on coverage, double teams, bracket coverages and all these things you can do because you have one guy that they definitely have to pay attention to.
"And oh, by the way, you have a really nice pass rusher inside, too, in Leonard Williams, so now you're not only collapsing the pocket from the outside, you're pushing the pocket from the inside. That's very difficult as a quarterback to handle that."
In addition to how Pennington feels Allen might uncomplicate the defensive plans for head coach Adam Gase and coordinator Gregg Williams, he thinks the Jets don't have to take a complex approach to their position in the weeks before the draft later this month.
"All the options are on the table and that's a great place to be," he said. "I don't think right now any crazy decisions have to be made. Some of the best decisions get made at the very last minute because teams will do some unordinary things right there at draft time. They'll feel that pressure, they'll make an offer, and then that team gets a great deal by trading out of that pick.
"So there's really no reason to force the issue right now. Just study the players, study what your needs are, and let's just see how it unfolds."