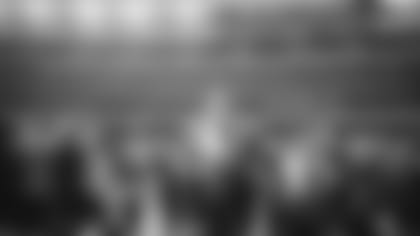 On Thursday, the New York Jets and Nike hosted the first annual Girls High School Flag Football Semi-Finals and Championship at MetLife Stadium. Introduced in February 2021 with North Jersey Super Football Conference (NJSFC), the Jets and Nike funded eight high schools from New Jersey to participate in the pilot league's inaugural season.
The league took off in April with each team playing (6) games throughout the season. In addition to the on-field games, the Jets hosted multiple workshops and virtual events that were aimed at empowering the athletes and showing the participants the opportunities women have in sports.
The Jets hosted the first Girls High School Flag Football Invitational on Sunday, June 6th, where the four winners moved on to compete in Thursday's semi-final and championship games. Following the semi-final matchups between (1) Irvington vs. (4) Shabazz and, (2) PCTI vs. (3) Indian Hills, winners PCTI and Irvington faced off in the championship .PCTI was crowned the first Girls High School Flag Football Champion in New Jersey history following their 18-1 victory.
Following the championship game, the Jets held an award ceremony presenting the Bulldogs with apparel and tickets to a Jets home game this season where they will be honored.
The Jets have committed to doubling their support for the next year of the High School Girls Flag Football League in New Jersey, with the long-term goal of having the sport adopted as an official high school statewide varsity sport.
This summer, the New York Jets will be releasing an eight-part documentary series that takes an in-depth look at the inaugural season - from the launch of the program to the finals and highlights the activities that took place around the league. The series will air on New York Jets platforms and will be narrated by women of the Jets Organization.
See the Top Photos from the Semifinals and Title Game Where Passaic County Technical Institute (PCTI) Captured the League's First Championship at MetLife Stadium