It's the OTA part of the season, which means no pads, no hitting, and for cornerbacks, no press coverage. Even with all that, you want to see your team's corner situation coming together.
Yet for the Jets the transition continues from Revis and Cromartie to two names that have yet to come together to the fore.
Dee Milliner obviously figures to be one of those CBs, but for today's practice, Milliner sat out with hamstring tightness. Darrin Walls is a competitor at the position, but he was out of the voluntary practice due to personal reasons. Third-round rookie Dexter McDougle factors into the equation, yet Dex continues to wear the red jersey as we continue to be careful with the full rehab of his shoulder.
Into the fray enters Dimitri Patterson.
Patterson of course has been around for a little while as we signed him April 1, a dozen days after Antonio Cromartie headed west to sign with the Arizona Cardinals. Dimitri acknowledged today that his name recognition may not be the same as AC's, but he wasn't conceding anything else.
"I've been asked to do what Cromartie was asked to do," Patterson said. "I don't have the high profile, I don't have the biggest name. But I've covered the same receivers and I've held up extremely well against the same receivers. So the Jets knew that about me."
He liked the way John Idzik, Rex Ryan and DC Dennis Thurman did their homework on his career, which has alternated between starting quality play for the Eagles, Browns and Dolphins and extended time on the bench due to injuries. He's thoughtful enough to know that some teams might focus on the off-field stuff but others, such as the Jets, focused on the on-field performance.
"It's not about making me feel like I'm the king, no, it's just about acknowledging what you see on the tape," Patterson said. "I'll go to work, we'll grind, we'll get W's — it'll be a respectful situation. That's what Rex and Mr. Idzik presented to me and that's what made this place appealing to me.
"Like I said, I don't have a high-profile name, but when I put my film against anybody's, I'm going to stick out in the situation."
There were two stretches in his surprisingly long NFL career, now in its 10th season, that Patterson was healthy and put up some impressive INT and PD numbers, with the Eagles in 2010 and with the Dolphins last season. Here's how those streaks broke down:
But is that health a concern? Again Patterson acknowledges his history but disputes those who might draw certain conclusions from it.
"Throughout my career, I have not been injury-prone," he said. "The last two years, yeah, I have had some unfortunate injuries, but that's just the reality of this beast — you're going to get hurt. But at the end of the day, they have researched what I've had, they've seen that these injuries are nothing that are skill-diminishing, because that's the most important thing. ... That's why I'm here right now."
Ryan said in the absence of press technique, "which makes your job a heck of a lot easier in man coverage," he's been impressed with Patterson.
"I think he's done well," Ryan said at his news conference after today's practice at the Atantic Health Jets Training Center. "He's been on top of his assignments. He's been pretty impressive."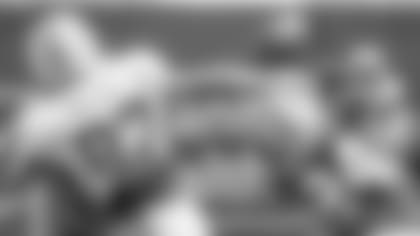 Along with Patterson and the above-mentioned corners, the rest of the group includes returnees Kyle Wilson, Ellis Lankster and Ras-I Dowling, sixth-round rookie Brandon Dixon, fourth-year man Johnny Patrick and first-year men Jeremy Reeves and Lowell Rose. Barring a deal to bring a big name into the fold, these are the competitors who will fight it out for our corner posts this summer.
Patterson, who's been around the block and then some, leans back on his experience to assess the corner spot at this moment on the offseason calendar.
"Do I think we have the guys to go out there and be extremely competitive? No doubt about it," he said. "But we don't truly know that until we get under the lights. We don't know, so we'll see."