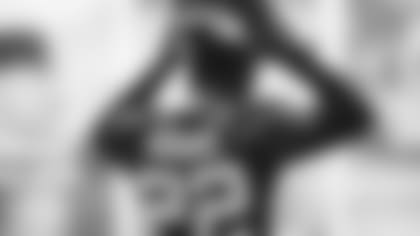 After the Jets added seven players in the 2022 NFL Draft, general manager Joe Douglas signed five undrafted free agents. N.C. State RB Zonovan "Bam" Knight and Illinois S Tony Adams stand out to Dane Brugler of The Athleticas players who could make a push for a place on the 53-man roster.
"I thought there was a good chance, strictly just from his kick-return ability, that he'd be drafted in the sixth or seventh round," Brugler said of Knight. "He goes undrafted, the Jets are able to get him. You look at his production, just consistent the last three years at NC State. He's 5-11, 210 pounds. He's kind of a slasher with the way he runs. I think the patience could be a little bit better, the pad level could be a little bit better, but you love a lot of the things he has to offer on passing downs.
"Ball security, blocking, receiving, those are three areas he needs to be a little bit better, but he can do those things. Versatility on special teams, kick return, that's something that really brings him value and part of the reason why if he's going to make a roster, I think kick-return value is a big part of it."
Knight was versatile for the Wolfpack, leading the team with 753 rushing yards and earning first-team All-ACC honors at kick returner. He had two returns for TDs in 2021. He was extremely consistent, rushing for 754, 788 and 753 yards (2,286) total in three seasons. He ran for 18 touchdowns and added 48 receptions for 337 yards.
He finished his career No. 1 in school history with 5.45 rushing yards per attempt and 29.8 yards per kickoff return. Knight is the only player in school history with three kickoff return TDs and joins Colts RB Nyheim Hines as the only players with multiple 100-yard kickoff returns.
Adams began his college career at cornerback before switching to safety. He finished the 2021 season with 63 tackles (second on team with 47 solo stops), 3.5 TFLs, 1 sack, 1 INT and 5 PDs. He played in 41 games for the Illini, totaling 206 tackles, 11 TFLs, 3 sacks, 6 INT and 17 PDs. He became the first Illini to have interceptions in back-to-back Big Ten games since Vontae Davis and Kevin Mitchell, in 2007. Adams also became the first true freshman at Illinois to start the season opener since Davis in 2006.
"He's a little bit of a workout warrior," Brugler said. "I thought the tape was inconsistent. Probably an undrafted free agent based on the tape, but then the pro day and all of a sudden, Tony Adams may be a little higher on the radar. He's 5-11, 203 pounds, ran in the mid 4.4s. Outstanding jump with 41.5-inch vertical jump. Decent length at 31 inches, he was under 7 seconds in the 3-cone.
"Defensive back, more than any other position, is a stopwatch position. It's what you're going to trust those numbers and a guy like Tony Adams, bring him to that room and let him compete with the other top-tier athletes and see what you have. It wouldn't surprise me at all, because of that athleticism, if he makes it really tough on the coaches to cut him at the end of camp."