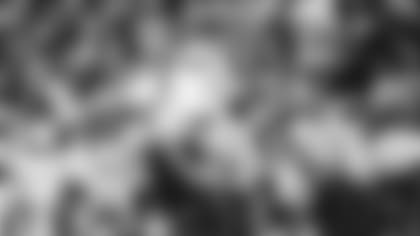 It was typical Sam Darnold question and a typical Darnold answer.
A reporter wanted to know what was staying with the Jets' second-year quarterback more after their 34-17 win over the Redskins — the four touchdowns he threw, for the first time in a game since he was at USC in 2017, or the one interception.
"Towards the end of the game, I was talking more about the interception to the coaches and the other players, so maybe that," Darnold said with a vaguely distasteful expression. "But I think for us as an offense, as a whole, it's just another steppingstone in the right direction, so that's how we're going to look at it."
Darnold, it has been noted for the last two seasons, hates to make mistakes. Sometimes they happen and they happen in bunches, but Darnold's not the first Jets or NFL QB to giftwrap three or four picks in a game, as he did vs. New England and at Jacksonville.
But even though he won't, he should savor the four touchdown passes he threw, to four different receivers, and the 400-yards-on-the-nose offense that he and his teammates hung up on the Redskins.
And then there are the words of encouragement from those teammates.
TE Ryan Griffin, who had his fourth TD catch of the season and his first 100-yard receiving game, said Darnold's game was "Awesome."
RB Le'Veon Bell explained it this way: "Sam was comfortable. That's what happens when you protect him. He was really comfortable and made good decisions to play a good game."
And HC Adam Gase said, "He's taking more control of everything. ... Anytime your quarterback gets like that, that's a good thing for us."
To be sure, the media were interested in Darnold's second-quarter interception only as a possible story angle. But the four TD passes brought forth a few more robust themes, such as "improvisation" and the comfortability that Bell and Gase mentioned.
Darnold said two of his throws to his tight ends — the 20-yard touchdown strike to Daniel Brown for his first catch as a Jet to get the scoring started, and the 45-yard rollout lob to Ryan Griffin late in the first half — were jazzy QB riffs.
On Brown's route, Sam said, "He did a really good job. He wasn't supposed to be over there or anything, but he did a really good job once I broke the pocket to find the open space and get in the end zone."
And he said he's built a strong relationship with Griffin and his tight ends as a group, even without Chris Herndon, out for the year with injury.
"They're so selfless," he said. "How much work they put in off the field and then what they're able to do in the run game, even the pass protecting sometimes. But also, out there on some routes, they don't care who makes the play. But if the play is there to make, they'll go out there and take advantage of their opportunity."
It's been a roller-coaster ride for the Southern California kid who's trying to grow up fast on the East Coast. Darnold started out decently in the opener vs. Buffalo, went through his bout with mono, looked sharp in his return against Dallas, then suffered a sophomore slump in the three-game losing streak. Now he's back up with these last two wins.
But one thing Darnold won't do is pat himself on the back. These last six games are not about him but about his offense and his team.
"It's huge," he said of this modest two-game win streak that will be tested at home by Oakland next Sunday. "But it's one game after the other. You know it's continuing to stack wins but also continue to have the mindset of every single day, you know, tomorrow we're going to come back to work and have great meetings and get after it. So I think we've just got to continue going back to work every single day and stay with the process."