Some of the NFL's most versatile quarterbacks will be on display at this weekend's divisional round playoff games. You know, the guys who can throw it and run it, whether scrambling or bootlegging or sneaking or zone-reading, with equally devastating effectiveness.
On Saturday night, Aaron Rodgers takes his elusiveness to Arizona to face the Cardinals, right after Alex Smith and the Chiefs tackle the Patriots at Gillette Stadium. And those games are a fitting warmup to the Sunday showdown when Cam Newton and the Panthers take on Russell Wilson and the Seahawks.
It's a shame that another of 2015's top quick-footed QBs didn't make it to the postseason to add to the "rush" of the weekend. And that QB, of course, is the Jets' Ryan Fitzpatrick.
OK, you're not buying that hype. But this tricked-up intro is merely a way to say that Fitzpatrick was one of the best quarterbacks on foot in the league this past regular season. And we base that on an offbeat metric that we'll call QB Keepability.
The measure tells us who are the most effective quarterbacks when a "meaningful" play ends with the ball still in their hands. In other words, who has the best yards/touch average when "touch" is defined as rushing minus kneeldowns plus sacks. Who do you suspect might be the top three in QBK this season? We'll tell you in a few paragraphs.
If we go just with the usual rushing numbers, Tennessee rookie Marcus Mariota was No. 1 among qualifying QBs with 7.41 yards/carry while Fitzpatrick was 15th at 4.50. But this statistic includes those problematic "victory formation" kneeldowns for zero or minus yards at the ends of halves and games.
If we factor out the KDs, Green Bay's Rodgers moves into the lead at 7.74 yards per "meaningful" carry, just inches ahead of Mariota's 7.67. Fitz remains well off the pace in 16th at 5.98.
But we'll go one step further and mix in signalcallers' abilities to minimize the damage when they're being pressured or sacked. And here Fitzpatrick, along with help from the Jets' protection, soared up the list to No. 2 at 2.83 yards/touch, behind only his fellow AFC East competitor, Tyrod Taylor of Buffalo, who led the NFL at 3.02.
QB "KEEPABILITY" INDEX, 2015 NFL REGULAR SEASON

(Selected Qualifying Quarterbacks)

Quarterback, Team
Yds/Rush
Rank
Yds/Rush-KD
Rank
Yds/Ru-KD&Sax
Rank
Tyrod Taylor, BUF
5.46
9th
6.66
11th
3.02
1st
Ryan Fitzpatrick, JETS
4.50
15th
5.98
15th
2.83
2nd
Cam Newton, CAR
4.82
14th
5.45
19th
2.40
4th
Alex Smith, KC
5.93
t-5th
7.08
8th
2.35
5th
Russell Wilson, SEA
5.37
10th
6.47
12th
2.29
6th
Aaron Rodgers, GB
5.93
t-5th
7.74
1st
0.46
15th
Marcus Mariota, TEN
7.41
1st
7.67
2nd
–0.07
17th
Fitzpatrick not surprisingly downplayed his "keepability" last month after the win over the Titans and Mariota.
"I think defenses look at the scouting report," he said. "I ran a 4.88 at the combine. I'm not very fast, so I think it surprises them or catches them off guard. You know, I'm definitely not No. 1 on the list in terms of guys that they need to stop. They're going to do things to stop guys and sometimes I'm the forgotten man a little bit with that."
Fitz may just be humble about his running ability and pocket awareness, but suffice it to say that, feet-first or head-first, this is one more of many reasons that both GM Mike Maccagnan and head coach Todd Bowles have said that while they are prepared "for all potentialities," they'd very much like to sign the potential free agent in 2016.
"You can't take away from anything that Ryan's done this year from a records standpoint or otherwise," Bowles said last week. "He's been great for the guys in the locker room and he knows we want him back and he wants to be back. It's just a matter of working it out."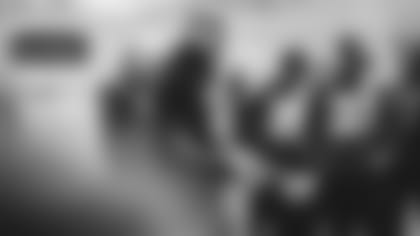 news
How Many Teams Can Win the AFC in 2023? 
Head Coach Robert Saleh Said Jets 6-8 Teams That Can Win Super Bowl This Season