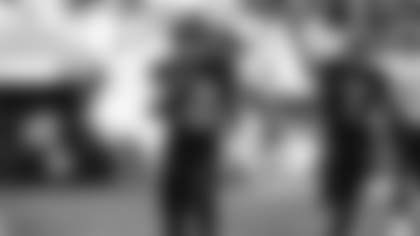 Another game, another day that Braxton Berrios showed why he's in the hunt not only for a Pro Bowl berth (he's a first alternate after the initial balloting) but also for the Curtis Martin Jets Team MVP award.
Sunday's to-the-house kickoff return was only one reason for BB's rising late-season prominence on the Jets.
"It felt great to finally finish one this season, obviously," Berrios said following the Jets' 26-21 victory over the Jaguars at MetLife, a game in which he topped QB Zach Wilson's 52-yard song-and-dance run to open the Jets scoring with his first kickoff return touchdown as a pro and the Jets' first since Andre Roberts in 2018. "We had a scheme going, and the 10 guys, I mean, I think we pretty much ran it to perfection — kicker to beat, and once we beat him, we were out of the gate."
No first-person or third-person singular pronouns for Berrios. It was all first-person plural, "we", on his return. He and his blockers all had a hand in his touchdown and in his three returns for 138 yards, which for the moment have cemented his lead among NFL kick returners with a 30.7-yard average.
But now take a look at his offensive contributions. No doubt with Jamison Crowder (calf) inactive and Corey Davis and Elijah Moore on Injured Reserve, his services were needed. And yet Wilson could find him for a mere five catches for 37 yards?
We're being facetious, of course. Both totals still led the Jets in this muted passing day for Wilson and big ground game for the Green & White. But his five catches were achieved on six targets. One of them converted fourth-and-3, two of them converted second downs. But none were as important as his fourth-quarter 12-yard grab on third-and-9 from the Jets 43 despite taking hard hits on the play from a pair of Jacksonville rookies, S Andre Cisco and CB Tyson Campbell.
That reception kept the clock draining and kept the Jets' last drive moving to the Jaguars 1, from where Eddy Piñeiro drilled his second of two field goals for the 26-21 lead that the home team maintained despite the Jaguars' ensuing drive to the Jets 1.
"It was pretty simple," Berrios said of that clutch catch. "It was a type of an in-route. He felt room, I saw room as well, and kind of throughout the play, as I was running it, I was pretty sure he was going to come to me. And obviously he did. He put it right on the money. He knew the safety was going to be there. I did as well. And that's just one of those plays that you've got to make."
All of the connections spoke of the organic chemistry growing between Berrios and Wilson.
"I have to see it through Zach's eyes," Berrios said. "On that third-and-9 conversion, I know what he saw. I don't see all the blitzes and stuff that he gets and all that in his face. But I know the coverage and I know where the holes are and so does he. At the end of the day, it's all about timing and being in those places when he expects you to be in them."
Berrios was also in a few more places that added to his yardage total. He had a 3-yard end-around. And he had a 12-yard punt return. Add it all up and he had 190 all-purpose yards for the day. It was his fourth game with at least 150 APY, and should he add one more such game to his résumé this season, he'd have the most 150+ games since Leon Washington, now a Jets special teams assistant, racked up seven such games in 2008.
But Berrios didn't want to talk "I". He had more "we" that he wanted to mention, regarding the adversity his entire team overcame to post their fourth win of the season.
"In an NFL season, there's going to be adversity," he said. "Obviously with this new wave of COVID, that brought a whole other set of challenges. Coach Midd [TEs coach Ron Middleton] was our head coach today. And it was all about resilience and just next man up, focus in on what we have to do and whoever is on the field, go out there and make a play. Lucky enough, we made one more play than they did today."