This is the stretch of the NFL calendar where annual events bump into each other on the way to the next regular season. For instance, the Pro Football Hall of Fame Class of '17 was elected and introduced before last Sunday's Super Bowl. And in a few months' time, the 2017 draft will be held, this year in Philadelphia from April 27-29.
One former Jet bridged that gap when he showed up and brought his star power to the recent Jets House at SPiN New York. Mo Lewis still has the look of the dapper, dangerous linebacker he was for the Green & White from 1991-2003.
Starting with that '91 draft, Lewis recalled in his interview with Eric Allen how it came to be that, even as an accomplished University of Georgia LB, he wasn't thinking about his pro career when then-Jets general manager Dick Steinberg called him to tell him the Jets had picked him.
"A lot of people don't know this, but Cleveland was looking at me," Lewis recalled of his predraft experience. "They flew me up and they said their could take me in the first round. But then they found out I had a hollow bone in my thigh and they left me at the airport.
So on D-Day, he said, "I was at home with my parents and truthfully, I didn't know the draft was going on. I got a call and Dick Steinberg told me I was selected by the Jets. I thought someone was playing a joke on me, so I hung up the phone. He called right back and said, no, we selected you in the third round. I was happy, and I had to find out more about the Jets. I didn't know much about them. ... They came from out of nowhere."
Mo said the NFL vibe back then was that rookies didn't start right away so "just shut up and go play special teams." But then-head coach Bruce Coslet practically threw the pads on him after he arrived at Hofstra University for rookie minicamp and then the full-squad minicamp and told him to "get out there with the first group."
"From there," Lewis said in his self-deprecating way, "the rest was history."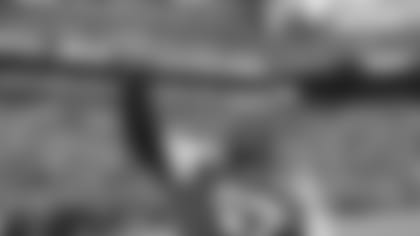 But not for a while. Although Mo was a starter from the start, it took the input of future Hall of Famer Bill Parcells to bring out his best in the second half of his Jets tenure.
"Coach Parcells was the coach I think that saved my career," Lewis said. "He challenged me. He was the right coach for me."
Lewis recalled that Parcells, who coached him from 1997-99 and presided over football operations in 2000 before departing, could be combative and wanted his players to be combative as well.
"He tried to get up under my skin a lot," Mo said. "He tried to get me to get into fights a lot in practice, get me to do different things. I'm not that type of person. I'm thinking, hey, I'm not going to hurt myself here so I can't perform on the field."
But the Parcells tough-love treatment worked. Lewis came back from his season-ending chest injury in '96 to earn his second team MVP award in the Tuna's first season at the helm. Then he went on to be named to three straight Pro Bowls and received All-Pro honors in '98. He was defensive captain from 1997-2003.
And the honors came in part because the numbers poured in: 200 games, 199 starts, 52.5 sacks — most ever by a Jets 'backer — 14 interceptions, 13 fumble recoveries, 26 forced fumbles, five return TDs and 1,231 tackles — second-most in franchise history until David Harris passed him this past season.
"I really appreciate Coach Parcells. Because of him knowing who I was as a player, he really helped me in my career," Mo said. "I'd like to say thank you and he did a great job."
Yes, Parcells did. As did Lewis. And at Jets House we got to say thanks once more to No. 57.