G James Carpenter, G Willie Colon (IR), G Dakota Dozier, T D'Brickashaw Ferguson, T Breno Giacomini, T Ben Ijalana, C-G Wes Johnson, C Nick Mangold, T Brent Qvale, G Brian Winters, G Jarvis Harrison (PS)
G Willie Colon, T Ben Ijalana
Head coach Todd Bowles said at the end of the season that his O-line's 2015, while not necessarily a great, was very good.
"I thought those guys played well," Bowles said. "They were healthy for the most part. They played well together. We can get better at some things. Some games we got stoned in the run game, but some games we had some big running games and that's all a tribute to them."
The Jets had some good rankings in the usual OL metrics. When it came to protecting their QBs, they got off to a remarkable start, allowing only two sacks in the first five games. On the year the unit gave up 22 sacks at the rate of one sack every 28.5 dropbacks, both second-best figures in the league.
Similarly in the run game, as Bowles noted, the unit started exceptionally strong, climbing to No. 1 in the NFL after six weeks, before settling lower, 10th in rush yards/game (116.8) and 14th in yards/carry (4.2).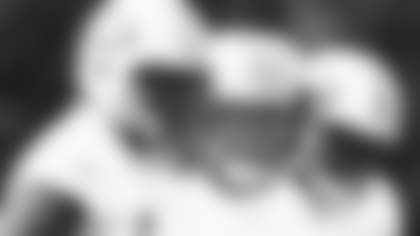 C Nick Mangold and T D'Brickashaw Ferguson officially became decade-old anchors. Mangold had his usual outstanding season, was voted a first alternate on the initial Pro Bowl balloting, then got the call in January to go to Hawai'i for his seventh all-star appearance and his fifth starting assignment. He had neck and hand injuries during the year but still made 15 games and 15 starts and participated in 934 plays on offense.
Ferguson did his usual thing as well, which was to play at a high level, protect Ryan Fitzpatrick's blind side, and play in literally every offensive play once again, 1,108 in all. Ferguson's streaks of starts and appearances from his first game as a Jet in 2006 extended to 160 straight of each, with the starts tied for the second-longest regular-season streak among all active NFL players regardless of position.
LG James Carpenter came to the Jets this past offseason to join his former Seahawks teammate, RT Breno Giacomini, who arrived as a free agent the previous year. Both coincidentally put in the exact same play counts — 1,105 on offense, 77 on special teams. Giacomini committed seven penalties, tied with Ferguson for most on the offense, while "Carp" was called for only three penalties and only one hold all year.
RG was split between Colon and Winters. Colon impressed Bowles in training camp and extended his starting streak 35 games as a Jet and 38 of his first 39, but his aching knee cost him Game 4 in London and then sat him down for the rest of the season after Game 7 at Oakland.
Enter Winters, feisty as Colon and eight years younger. Winters, whose 2014 ended the same way as Colon's '15 did, on IR, did well in two starts against the Dolphins and Ndamukong Suh, scuffled in Game 14 at Dallas, and for what it's worth, in his 10 starts the Jets went 7-3.
Roles were filled well by T Brent Qvale (16 games played and his first pro start vs. Jacksonville) and at C by Dakota Dozier (his first three snaps as a C filling for Mangold at New England) and Wes Johnson, who logged his first pro start and 169 offensive plays over a four-game span until Mangold returned for good.
Some have raised the hobgoblin of age for this unit, and it's true that Ferguson, Mangold and Colon are all 32 and Willie said after the Buffalo season ender that he's considering his football future. But Bowles, asked if the number of collective candles on his linemen's birthday cakes concerned him, replied, "Not at this time."
GM Mike Maccagnan's take on the OL heading into Year 2 of his building program: "Our line is still a good line. We're going to try to keep it intact, but ideally we're going to try to groom, identify and target some young players to hopefully make that position more competitive."
Colon and Ben Ijalana, who's been available but has been called on for only six offensive snaps over three seasons, are potential FAs. Drafted rookie Jarvis Harrison and Lawrence Okoye were signed to the practice squad in November, and both along with Sean Hickey and Craig Watts were signed to reserve/future deals in January.