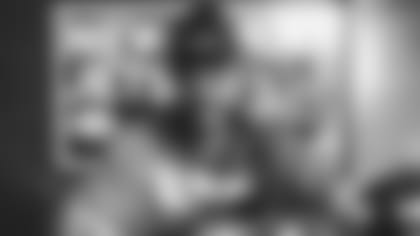 After watching the Jets from afar the last two seasons, the team's new offensive lineman Billy Turner knows the next step for his new team.
"Championship. Simple," he said.
Turner's first exposure to the Robert Saleh-led Jets came in the summer of 2021 when the Jets and Packers held joint practices in Green Bay during training camp when Turner played for the Packers. Then playing for the Broncos last season, Turner started against the Green & White in a 16-9 Jets win in Denver.
"The past couple of years just battling with some of these guys, you can see just the eagerness, you can see the will to win and the want-to," he said. "When you see a team with a lot of young talent like that, they're super, super close to being successful in all facets of the game, and that equals championships. Being able to be a part of a team and an organization like that is a no-brainer."
Turner, who enters his 10th season after being drafted in the third round by the Dolphins out of North Dakota State, is now withon his fifth NFL team. He may be new to 1 Jets Drive, but he's familiar with his surroundings. He was teammates with QB Aaron Rodgers, WR Allen Lazard, WR Randall Cobb and QB Tim Boyle in Green Bay. Turner's transition on the field shouldn't be difficult either considering he was coached by Jets offensive coordinator Nathaniel Hackett with the Packers and the Broncos.
"It definitely helps," Turner said. "I mean, honestly, when you're around the game long enough, to a certain extent, it doesn't matter what team you're on, there's going to be carryover."
He added about his scheme fit: "I get to be myself. I get to be athletic, I get to play fast and I don't have to think. Anytime you're able to kind of take thinking out of any professional sport, that allows you to play fast. I think that takes your game to the next level without even trying."
Turner, 31, is the second-most seasoned offensive lineman on the Jets (Duane Brown enters Year 16). He's experienced the peaks and valleys the National Football League has to offer. He's played on winning and losing teams. He's been cut. He's been hurt. He been a part of playoff teams and has played in the NFC Championship game. Joining a team that hopes to snap a 12-year playoff drought, Turner hopes to bring perspective to the young nucleus in Florham Park that can help the 2023 Jets take their next step after a promising 7-4 start in 2022 ended at 7-10.
"A lot of young guys enter this league and they're eager, as they should be," he said. "The NFL is a league that has a great and a tremendous history of humbling players. It doesn't matter who you are, you get humbled in this league no matter what. So being a veteran who's been around for 10 years now, that's something that I think I'll be able to portray and speak to some of these young guys about.
"You can be a great player one day and struggle the next. It's something that you have to figure out how to deal with adversity and being able to pick the pieces up off the ground when you're struggling when you fail and continue to move forward. That's what makes you an average player, or streaky player and turns you into a great one."