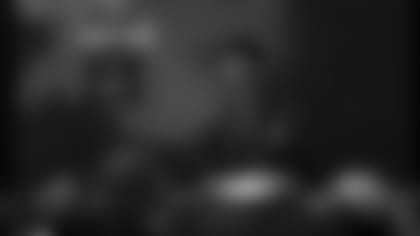 After being selected by the Oakland A's with the No. 9 overall selection in the MLB Draft, Kyler Murray could be very much in play to be the top overall selection in the NFL Draft more than nine months later.
"To be the number one pick, that's a kid's dream come true," Murray told reporters Friday at the NFL Combine.
The Arizona Cardinals own that top selection and Murray is scheduled to meet with the Cards in Indianapolis. The Jets, who selected USC QB Sam Darnold with the third pick last year, would figure to benefit from Murray coming off the board first. Just like his predecessor at Oklahoma in Baker Mayfield, Murray will enter the NFL Draft as the reigning Heisman Trophy winner.
"I think we're two different players. Obviously he's very talented and had a great season, but his success isn't my success," Murray said. "I've got to prove myself just like he's proven himself."
Murray, who connected on 69% of his passes last seasons for 4,361 yards and added 1,001 yards on the ground, accounted for 54 touchdowns in 2018. While he won't participate in any drills at Lucas Oil Stadium nor any testing, Murray impressed onlookers with his measurements. Standing in at 5'10 1/8" and 207 pounds, Murray also had 9 ½" hands.
"I've never been the biggest guy on the field, always been the smallest guy on the field. I've said it multiple times, I feel like I'm the most impactful guy on the field and the best player on the field at all times," he said. "That's just the confidence that I have in myself and I know my teammates have in me. I've always had to play at this height… Everybody is trying to make it out to be something, but at the same time I just go out there and play the game that I love."
Not too long ago, when Cardinals head coach Kliff Kingsbury was then serving in the same capacity at Texas Tech, he made waves declaring that he would take Murray if he had the first pick in the draft. We will soon find out if Kingsbury feels the same way this spring as he did last October.
"Coach Kingsbury, you know the type of offense he runs. Obviously he recruited me out of high school," said Murray, who attended Texas A&M in 2015 before transferring to Oklahoma. "I have a great relationship with him. If I were to play under him, I think it would be a great deal, but again like I said, I don't get to pick the players. All I can do is show up to where I'm supposed to be, work hard and get after it."
After choosing football over baseball, many wondered if Murray was leaving money on the table and making the right decision. But it would be a shocker if he wasn't taken in Round 1 and he could be the first name off the board. If that happens, the Jets would only have the San Francisco 49ers ahead of them in terms of getting their top choice amongst all the positional players in the Draft. GM Mike Maccagnan has also indicated an openness to move back and add more draft capital.
"Yes, it's a final decision," Murray said. " I'm here, I'm ready to go. I was born a football player, I love this game. There's no turning back. When I made this decision I was 100 percent."