Monday, Monday. With apologies to the Mamas and the Papas, today is the mother of all off-season Mondays for Jets players. They're reporting back today to begin their off-season strength and conditioning program under strength coach Sal Alosi and his staff.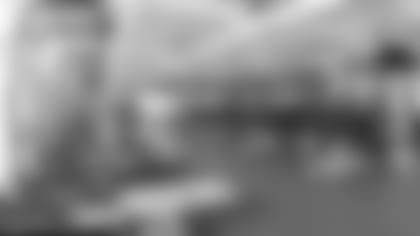 And while there is some sadness at returning to work for those 40 strength sessions over the next three months, this will also be an uplifting time for all the Jets, new and old.
For one thing, this will be the first off-season program to be held at the Atlantic Health Training Center. The team moved in here last Sept. 1, so a year ago this week the players were still gathered as usual in the weightroom and environs at Weeb Ewbank Hall on the Hofstra University campus.
"The Weeb" was the beloved longtime home of the Green & White, but the 10,920-square-foot weightroom here in Florham Park, N.J., almost twice the size of the room at Hofstra, gives all the players room to spread their wings.
And of course, this will be the first off-season program conducted under the new regime of head coach Rex Ryan. Rex has continued meeting with all his players, but he's greeting them all today for the first time as a team, and there will be a certain energy at the start of this year's program because of that.
Woody Johnson is feeling the excitement. The Jets owner was asked about Ryan at last week's topping-off ceremony at the New Jets Stadium.
"I'll tell you, Rex is doing a great job," Johnson said. "Rex has come in and he's transformed, really, the whole culture of the building almost immediately. I think as you get to know him, you realize it's just natural, the way he is. He's a very hard worker, he's gotten to know all the players that have come in, he's met with the staff. He's not going to hold back. I think he's going to tell you what he's feeling and he's going to let you in on what's cooking with the New York Jets."
And on this Monday the Jets again begin cooking with iron.
Eric Allen will be visiting with Alosi at his earliest convenience today, and Al Pereira, our legendary lensman, is here today as well and will be snapping some images from the proceedings in Sal's emporium. I can't promise exactly when, but in the near future we'll have a story and picture package on the start of the off-season program for you.