No. 24 was on the field, but that's not to say he was "at" practice, because he remains "in" the NFL's concussion protocol.
Jets CB Darrelle Revis officially did not practice again as he works his way through his concussion, Todd Bowles said after today's practice, although the head coach was slightly heartened by Revis' activity.
"I've got to see him run. He's got to do more at practice in order for me to have a little more confidence in him" being available for Sunday's home game against Tennessee, Bowles said. "I'm hopeful he can do more tomorrow than he did today. He ran around on the side today, so that was encouraging."
Revis, who has sat out the last two games, still has to pass two more tests in the protocol, besides Bowles' eyeball test. Bowles said Revis won't get those tests before Thursday's practice, but "if he doesn't have any setbacks and he's cleared, yes," he could play Sunday.
The Jets' injury report had two other corners listed as DNPs. One we know about: Marcus Williams (knee) also did some side running, Bowles said, and "we'll see later in the week if he can do anything on the field."
And starting CB Antonio Cromartie also sat out with a hip, but Bowles said it was just soreness and "he'll be fine." Same with C Nick Mangold and his hand.
Brandon Marshall, this week's AFC Offensive Player of the Week, said one reason for his and the offense's success this season is that they're all working with a master of social and interpersonal media, which is none other than QB Ryan Fitzpatrick.
"Every form of communication that's out there, he uses," Marshall said, "whether it's voice memos, it's text messages, it's video chats, it's group texts, it's emails. He sends it all to us in groups and individually, and it's constant. He's relentless."
"Which group text chat are you referring to?" Fitzpatrick said of a question from a reporter after the Marshall scrum had broken up. "I send individual clips. I'll send to Brandon, and if it's relevant to Deck [Eric Decker], I'll send him some stuff.
"There's a great O-line group text," he added slyly, "but that's usually not about football."
Just as slyly, C Nick Mangold offered some mixed praise to the competitiveness his QB brings to the table.
"He competes from obviously out on the field to trivia contests, Rubik's Cube and everything in between," Mangold said. "He's pretty book smart, but street-smart, you can get him. He's got a good sense of humor and I think he takes everything in stride. I'm sure 11 years of Harvard jokes probably haven't gotten old yet, and I'm going to keep trying to make them old."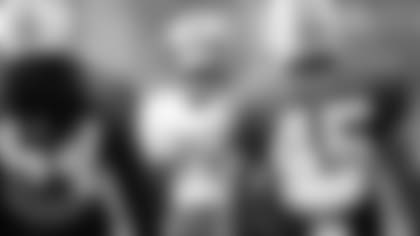 The Jets put on the pads for today's practice at the Atlantic Health Training Center because, Bowles said, "We needed it. We wanted to hit. We were rusty. I thought we needed to get better at tackling and point-of-attack blocking, so we can get better at those two things." ... Bowles said DE Mike Catapano, placed on IR, might need surgery for his Lisfranc foot injury, but "right now we're trying to do it without surgery."
City College of New York has given Marty Lyons, Jets radio analyst and Ring of Honor DT, its New York City Sports Legend Award. The school's Varsity Alumni annually honors a sports figure who, through his/her charity, good works and activities with children, has made an impact for the better on New York. Lyons and his foundation certainly qualify and are well-deserving.
Some other Jets awards besides Eric Decker being named the Jets' Walter Payton Man of the Year last week: WR Don Maynard, the former Texas–El Paso star and Pro Football Hall of Fame and Jets Ring of Honor member, has been named the 2015 Legend of the Sun Bowl and will join the 30 other Legends during pregame festivities Dec. 26. ... Leonard Williams, the sixth-pick-of-the-draft DE out of Southern Cal, was named one of 50 players on Pac-12 Networks' Pac-12 All-Century Football Team. ... MLB David Harris is the Jets nominee for the second annual Art Rooney Sportsmanship Award, which will be presented during CBS' "5th Annual NFL Honors" show on Feb. 6, the night before the Super Bowl.