The Jets are facing quite a bloc (pun intended) of tight ends in this last quarter of the regular season. Last week it was Tennessee's Delanie Walker, this week it's future Hall of Famer in Jason Witten of Dallas, then New England's Rob Gronkowski, then Buffalo's Charles Clay.
Calvin Pryor says bring 'em on.
"We feel comfortable with how we're playing tight ends," the second-year safety said after today's practice, three days before running into Witten on Saturday night in Big D. "We know we're going to have tough matchups week in and week out, but we're looking forward to it as well. Just with our preparation and game-planning, I think it's starting to pay off. We just have to do our job and play disciplined football."
Green & White fans who remember only Gronk's 11 catches for 108 yards in Game 6 and two long receptions by the Giants' Will Tye might think the Jets haven't improved much against TEs, but that would be incorrect. Last year TEs caught 14 touchdowns against the Jets. This year the number is two — one to Gronkowski and one to Miami's Jake Stoneburner in London.
And anecdotally, the defense is coming off a strong showing against Walker. With Buster Skrine getting a lot of the coverage responsibility, Marcus Mariota threw to his favorite target eight times with three catches for 28 yards until the final drive with the 30-8 win locked up.
A lot of the D's improvement in this area is due to Pryor's improvement. He has just his Game 2 interception at Indianapolis but the past three weeks he's totaled four pass defenses and two tackles for loss, and despite missing three games with an ankle injury, his 57 tackles, many of the big-bopper variety, are tied for second-most in the secondary.
"Well, I've played better than last year, so I think that's one step in the right direction," he said. "I just have to keep playing at a very high level and keep making plays for this defense."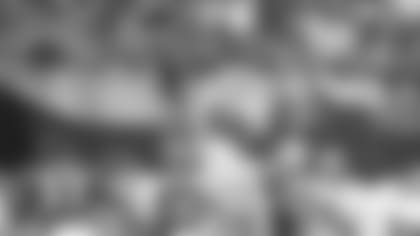 Head coach Todd Bowles wasn't buying the notion that Witten is no longer a threat now that at the age of 33 he's reached his NFL dotage.
"Oh yeah, big time," Bowles said. "He's been like that his whole career. He's steady, always tough. You know he's going to get the ball. He's going to make his catches, he doesn't turn the ball over, he can block, so he's a guy we have to look out for."
Witten, who's played in every Dallas game since '04 and started all but two, is at 65 receptions for 594 yards and two touchdowns this season. The catches are a little more than he'd had the previous two seasons but his 9.1 yards/catch are the lowest of his career.
He's played in all three games vs. the Jets since his 2003 rookie season, but he made his presence felt in the last two. On Thanksgiving 2007 at Texas Stadium, he had four catches for 54 yards and a touchdown, and he did his best to spoil the Jets' 2011 home opener with six catches for 110 yards.
Bowles offered high praise for MLB David Harris today.
"I don't think we could function on defense if David wasn't playing right now," the coach said. "David's probably the most underrated guy over there, but he's the glue that keeps everybody together over there. He does everything, not only just mentally. He makes a ton of plays. They're probably not flashy, like you see Mo [Wilkerson] and [Darrelle] Revis and the rest of those guys, but David keeps that core intact. David understand the game, he's our coach on the field. Without him, I don't know where we'd be."
Pryor's take on the big guy in front of him on the defense: "Everybody listens to him. ... He just comes to work every day and he pushes guys to get better. That's something I respect about him and that's why I love playing with him."