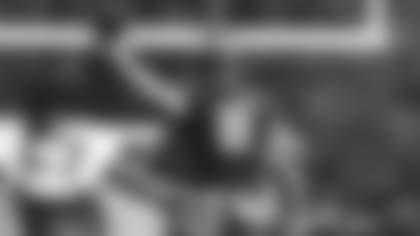 Hollywood to Broadway. Green Bay to Broadway.
When it comes to quarterbacks for the Jets, there's nothing quite like a full portion of the New York spotlight to energize even the biggest names in the NFL galaxy. Just ask Mark Sanchez, the California guy known as the Sanchize during his days in green and white. He's the last signal-caller to take the Green & White to the playoffs and an AFC title game.
Now comes Aaron Rodgers after 18 seasons in northeastern Wisconsin, and as Sanchez told Eric Allen on this week's edition of "The Official Jets Podcast," that "with that guy, you've always got a chance."
"I know him pretty well," Sanchez said about his fellow native Californian. "He's a relational guy, not like a small talk kind of guy, much deeper than that. He wants to know why. To some people he can be polarizing, and I think the best thing that happened to him is 'Hard Knocks,' it humanizes him and shows who he really is.
"There are different forces colliding, he can be so intimidating for the young guys, but he brings you in, puts his arm around you. Some guys are like a little puppy, they just want a little praise. Some guys need to be patted on the butt, some kicked in it. He's out there playing quarterback, coach, psychologist to build bridges. He's doing a masterful job. He's a great case study on being the quarterback and all the hats you have to wear and choose to wear. There's no better thrower of the football, until [Kansas City's Patrick] Mahomes showed up no one touched this guy."
Sanchez, who was drafted by the Jets with the No. 5 overall pick in the 2009 NFL Draft, dropped by One Jets Drive and soaked in the buzz of anticipation as he prepares for another season working as a game and studio analyst for Fox Sports.
"He's confident, intelligent, physical, but still humble -- totally humble," Sanchez said. "That's what's so great about the show ['Hard Knocks'], it's humanizing him, showing his real personality. Joking around, self-deprecating. I'm glad people see that, it's also good for other players to see. Yes, you're this guy, but also one of the guys. When he walks in a room, you know he's head and shoulders above, but that's our guy, but also one of the guys. There's a unique art to that. There's a lot going on there."
He added: "Big thing, too, it's like when [Tom] Brady went to Tampa Bay it re-energized the defense and skill positions, the same with [Matthew] Stafford to LA. It's a very similar blueprint."
Duane Brown Is a Key Cog on the O-Line
As the Jets prepare for their final preseason game -- Saturday against the Giants (a team they will also play in the regular season) -- the composition of the five guys on the offensive line charged with protecting Aaron Rodgers and launching a run game led by Breece Hall and recently signed Dalvin Cook remains uncertain.
That topic was the first that Robert Mays of The Athletic grappled with when he dropped in on the Jets -- his 13th stop among NFL training camps -- to chat on "The Official Jets Podcast."
"I'm here to see the state of the offensive line, see the defensive line rotation and who's getting snaps with the ones," he said. "The offensive line is a work in progress. Saleh said he's figuring out the five, but I'm sure there's panic for the fans in green right now."
From his vantage point, Mays said the return from surgery of veteran tackle Duane Brown would be a "huge difference."
"You'd have that reliable factor on that side and then it all falls into place," he said. "You have guys in the building but having that one piece in place and being able to kind of move everything else around is important."
Rookie second-round pick Joe Tippmann out of Wisconsin, drafted as a center, has seen time in practice working at guard with the first team and in last Saturday's game against Tampa Bay playing next to Connor McGovern. Alijah Vera-Tucker (ankle) and Laken Tomlinson (calf) were limited by injuries last week.
"It's interesting hearing [Robert] Saleh talk about stringing together a couple of good practices, having a good game and then getting more opportunities," Mays said. "The (Tippmann) pick makes sense. I understand Joe Douglas' plan with the offensive line, he threw bodies at this problem. Billy Turner has played a lot of snaps, and they're building depth at the right spots. Drafting a guy in the second round with his profile, a versatile guy, who could be a backup or a starter makes sense."
Making the Leap: Jermaine Johnson II
Some people might be confused by the suffix attached to Jermaine Johnson's name, as in II, the second. That's especially since the second-year DE recaptured his jersey number from college, switching from No. 52 in his rookie season to his preferred No. 11.
But there's no confusing that Johnson has the potential to be a force on the Jets' deep defensive line.
In his posting on NFL.com, Mike Band of Next Gen Stats, Research and Analytics included Johnson among AFC players who are poised to make the biggest leap in the 2023 NFL season.
"Jermaine Johnson II is looking 'awesome' entering his second NFL season, according to his own head coach," Band writes. "Across 14 games as a rookie, Johnson's average play time percentage was 34 percent, never exceeding the 50 percent mark in any game. It wasn't until the final regular-season game when Johnson registered his first multi-pressure game (two; nine games with a single pressure)."
Band added: "What was more impressive from the limited sample size was his pass rush get-off (the average time it takes to cross the line of scrimmage after the snap). Johnson's 0.70-second average get-off would have been his fastest mark in any game last season."
Through the Green & White's first two preseason games in 2023, Johnson had three pressures on only 15 pass-rush snaps, a pressure rate of 20%. In the 2022 preseason, Johnson had three pressures on 36 pass-rush snaps, giving him a pressure rate of 8.3%.
Against Tampa Bay on Saturday night, Johnson took 14 snaps (20%), making three tackles.
HC Robert Saleh, too, expects Johnson to ramp it up this coming season.
"His body [is going to take him to the next level]," Saleh said at the start of camp. "I don't know if you guys have noticed, but he looks massive, in a good way. He is explosive and very powerful. If you hold a bag, he is very heavy-handed and very powerful. I am expecting him to take a jump this year."