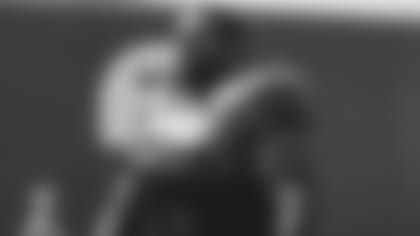 Head coach Robert Saleh announced on Friday that LT Duane Brown will miss at least Sunday's opener against the Ravens.
"There is a possibility that there could be IR but again there's a lot of information that's going to come out here in the next 24 hours," Saleh said.
George Fant -- who played last season at left tackle and moved to the right with the signing of Brown in August following T Mekhi Becton's season-ending knee injury -- will return to LT and rookie Max Mitchell will start at RT.
Asked about how Fant is handling switching from side to side and Mitchell's progression, Saleh said: "Sure it's frustrating for George. Everyone wants to settle into their job. Credit to George, he's an uber athlete, he's always been a team guy first.
"Max is much further along than we thought at this point. So, we're very confident that he'll be able to step in and do his job."
Mitchell (6-6, 307), a fourth-round pick in April, started 2 preseason games for the Jets and led the team with 124 offensive snaps. He predominantly played RT at Louisiana, starting 29 games in four seasons including 13 at RT in 2021.
"It's amazing," Mitchell said. "I was ready for it, I've been taking reps with the 1s. It's nothing new to me. It's going to be awesome. I'm excited. It's nothing I'm not prepared for, so I'm ready to go."
Familiar Foe
TE C.J. Uzomah's first game after seven seasons with the Bengals comes against a former division rival. Uzomah's 259 receiving yards against the Ravens is the most against any opponent in his career including 8 catches, 127 yards and 2 touchdowns last season.
The Ravens defense, however, could have a few wrinkles with new defensive coordinator Mike Macdonald, who was Michigan's DC in 2021.
"You go back and watch what the DC is used to and what he did at Michigan and go off that tape a little bit," Uzomah said. "Then you put in the pieces and the players that you know and how they might react to it. I think there are going to be some in-game adjustments, but that's every first game. That's how you have to approach it."
Shifting Culture
The Green & White will have 22 new starters Sunday compared to their last game against Baltimore in 2019. WR-KR Braxton Berrios is one of five current Jets who played in that matchup (WR Jeff Smith, DT Nathan Shepherd, T Conor McDermott and LS Thomas Hennessy are the others).
The Ravens, the organization GM Joe Douglas spent his first 15 years in the NFL with, are the model of consistency and Berrios feels the Jets are on the right track in Year 2 under HC Robert Saleh.
"They've been consistently good for a long time and you don't have to look as far as in our locker room with [Joe] Flacco to be reminded of that," Berrios said. "But you know, cultures change. I think what this staff and this new regime have done in just over a year, year and a half is a complete 180 from where it's been.
"Obviously, the goal is to get to a culture and get to a level of the standard being that high where you're consistently winning, consistently in the playoff picture and in high regards around the league. And I think we're well on our way to that."