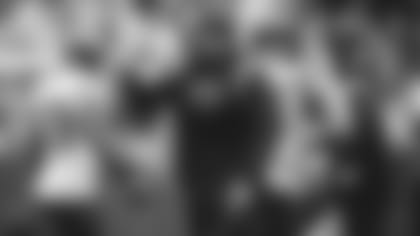 Even though Broncos QB Russell Wilson was limited in practice by a hamstring injury on Wednesday and on Thursday, the Jets are expecting him to start on Sunday.
"Fully expecting Russell," said HC Robert Saleh, who overlapped with Wilson with the Seahawks from 2012-13. "Ultimate competitor. There's no way he's going to let whatever is ailing him [hold him out]. He has to be pretty broken to not play."
Wilson is off to a slow start in his first season with his new team. The Broncos have a 2-4 record, while Wilson has a 58.6 completion percentage, 5-3 TD-to-INT ratio and an 83.4 passer rating — all are the worst in any season of his NFL career. The Broncos average a league-low 15.1 points per game. Saleh doesn't believe Denver's numbers reflect its performance.
"When you watch the tape, there are a lot of hard concepts to defend as we watch it," he said. "In that regard, check. The players are doing a really nice job executing. They are centimeters off in terms of creating three or four plays a game where they could be averaging 30 points a game. … It's just a matter of time for that group. When it starts clicking, that's going to be exactly what I think everyone expected. I think if we can just try to hold them off for one more week, that would be good."
Rematch at Mile High
At the start of his second season, Broncos CB Patrick Surtain II is already one of the best defensive backs in the league.
Surtain II (6-2, 202) has registered 4 pass breakups and surrendered only 147 yards this season as the No. 3 graded corner, according to Pro Football Focus (min 20% of snaps).
"He doesn't look like a young guy out there," OC Mike LaFleur said. "He looks like a guy that's seasoned."
Jets rookie WR Garrett Wilson played against Surtain II in the 2021 College Football Playoff National Championship and had 3 receptions for 50 yards and a touchdown. Surtain II's Alabama Crimson Tide, however, bested Wilson's Ohio State Buckeyes, 52-24.
"He was the best cornerback I played against in college," Wilson said. "The main thing is his size. You feel his size and then the technique and how patient he is. Anytime you are going against 6-1, 6-2, long corner, that is going to make you work to get an edge and you can kind of get sped up. I feel like he does a good job being patient with his eyes and sitting in there."
Hidden Production
Jets TE C.J. Uzomah, coming off an NFL career-high 49 receptions, 493 yards and 5 TDs with the Bengals in 2021, has 5 receptions for 34 yards this season. He's still found a way to make an impact without the ball, specifically with two game-changing blocks last week at Green Bay.
"The one that went to Corey Davis where he cross-shifted and got the defensive end down and then the next play, he was one of the lead blockers that sprung Brax [Braxton Berrios]," OC Mike LaFleur said. "To me, that is production. That is such a big factor for winning football games in this league and that's just one example of a lot of guys on this squad."
Davis' 41-yard reception in the third quarter was the Jets' longest play of the game, which set up Berrios' 20-yard TD scamper that gave the team a lead it did not relinquish.
"I just love football and hanging out on the field with the guys, so anytime I'm out there I just want to do whatever I can to help the team in any way," Uzomah said. "And if I can help by blocking every play or catching every or whatever that week, I'm here for it. That is pretty much just the mindset."