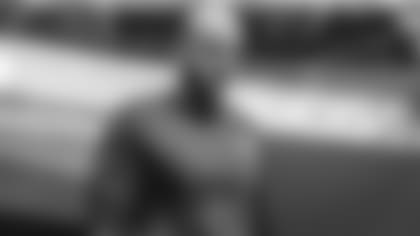 Jets head coach Robert Saleh, sequestered again in his hotel room, said on Monday that he "feels great" and that he "hopes to get back [with his team] in a day or two."
Speaking with reporters via Zoom, Saleh said he was impressed with the "awesome" play of the Green & White's makeshift offensive line in Sunday's win over the Jacksonville Jaguars and noted that the Jets set an NFL-season high in rushing yards (273). He was also asked about the status of second-year LT Mekhi Becton, who has missed virtually the entire 2021 season after sustaining a knee injury in the Week 1 game at Carolina and underwent surgery.
"Barring a miracle, he's probably not going to be here this week," Saleh said, referring to Sunday's game against Tom Brady and the Tampa Bay Buccaneers at MetLife Stadium. "We're not ruling him out.
"He's a big man and everyone heals a little differently. After surgery, things didn't go the way everyone was expecting. He's still working and putting in the effort. If he won't be back, he will be back in 2022, ready to roll. It's not about a setback or that anyone has been lazy. As I said, everyone's body heals differently."
Becton, the Jets top pick (No. 11 overall) in the 2020 NFL draft, sustained the knee injury in the third quarter of the Jets' loss to the Panthers, falling to the turf as rookie QB Zach Wilson connected with WR Corey Davis on a 22-yard TD pass.
With Becton out, George Fant (in his second season with the Jets) shifted from the right side to the left and has had a strong season. Also, backup RG Greg Van Roten and LG Dan Feeney played for two starters who were on the team's Covid reserve list, Laurent Duvernay-Tardif and rookie Alijah Vera-Tucker. Feeney will likely finish the season at C after Connor McGovern went down with a knee injury (MCL) against the Jaguars and was placed on injured reserve Monday.
"You always want to have good backups anyway," Saleh said. "Always having contingency plans regardless of position. Fant and [Morgan] Moses this year did it. I'm not going to label him [Becton] injury prone or any of that stuff. In San Francisco, Jimmy Ward dealt with similar issues for a few years. But you never look at a player from an injury standpoint alone. For Mekhi, this is a big offseason for him, getting his body and mind right as quickly as possible so he can have full OTAs, which he's never had, and a full training camp, which he's never had, and get into the regulars season and dominate like we know he can."
In other injury news, TE-FB Trevon Wesco was also placed on injured reserve Monday due to a knee injury. The Jets are hoping to get S Elijah Riley out of concussion protocol while receivers Elijah Moore (quad/Covid) and Jamison Crowder (calf) are day-to-day to start the week. Saleh said DL Folorunso Fatukasi, John Franklin-Myers, Tanzel Smart, LBs Hamsah Nasirildeen, Noah Dawkins, CB Lamar Jackson and TE Kenny Yeboah all are expected back after bouts with Covid while safeties Sharrod Neasman, Ashtyn Davis and nickel CB Michel Carter II could also return later this week.
Some of Saleh's quick hits:
• On the TD catch by OL Conor McDermott: "I was FaceTiming with [Green Bay head coach] Matt Lafleur. We were watching the game at the same time, but he was somehow 5 seconds ahead of me. I kept yelling at him to stop telling me what was going on. But on that one I could tell something happened because he was 'Ohhhhh.' He was laughing, saying 'I can't believe what just happened.' [The pass from Zach Wilson to McDermott] was a really cool moment."
• On Wilson's Play: "He made some remarkable throws. That throw to [Braxton] Berrios [a fourth-quarter 12-yard grab on third-and-9 from the Jets 43] was probably his best throw all season. The tempo was exactly where Berrios needed the ball to be to catch it. It was a clutch throw, a clutch catch on a critical down to keep chains moving. His decision-making has been fantastic, his off-schedule is starting to look natural. He looked loose, running with a purpose, not just to run. He's getting more comfortable, in a great headspace. It's going to be fun to continue to watch him grow."
• On interim head coach Ron Middleton: "I thought he did a great job. I heard he did a wonderful job at halftime. He did a great job upholding the game plan, being aggressive." The Jets converted 3 of 5 times on fourth-down plays, which included a failed attempt to pick up a first down on a fake field goal. "I still love that fake field goal."
Sheldon Rankins Looks Ahead to the G.O.A.T.
DL Sheldon Rankins, who played 73% of the defensive snaps on Sunday (including 3 snaps on special teams) praised his teammates' professionalism in his chat with reporters on Monday ... and then got down to the Jets' next task -- meeting up with their old nemesis in Tampa Bay QB Tom Brady.
"He knows everything, he's seen it all," said Rankins, who faced Brady and Tampa Bay twice last season when he was with the Saints. "He's played against it all. We have to understand that each and every rep is its own battle, its own war. Just focus on that, understand the task at hand and treat every down like its own objective, and have fun playing the game. Don't get starstruck. At the end of day he is Tom Brady, you have to treat him like a nameless, faceless guy, and play football the way you played football your whole life."
For Rankins, that professional life began as a rookie with New Orleans in 2016. Before Rankins was injured in the preseason that year, he got to see and play against Brady (when he was with New England) up close and personal.
"My rookie year with the Saints we did a joint practice against them," Rankins said. "The first day, in real pads, I remember he's trying to throw a screen to [RB] James White and I picked it off. I ran it back like I was trying to score a touchdown and look back and he was really trying to chase me, to come after me. That's a different level of competitive nature. I mean it's practice at this point and he's Tom Brady. He doesn't have to prove anything.
"We played them my second year in New Orleans and we came out the gate kind of slow and he was just ripping us up, throwing all over the place to Gronk [TE Rob Gronkowski]. On the second or third drive I got in a couple of hits, and was trying to get guys hyped. I said you got to keep hitting that guy, he's older now. We didn't score a lot of points, they did and won the game [36-20]. It's one of those things you watch unfold, there's just a different level of greatness there. We had some battles, some good ends, some bad ends, but hats off. You can't argue. He's the greatest to ever do it. It's our opportunity this week and we have to go and get him."