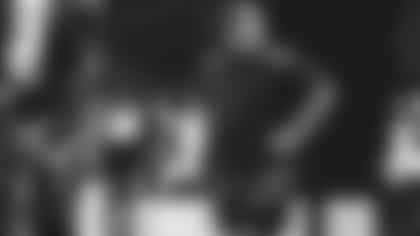 It all looked so good last summer.
The Jets offensive line appeared to be a solid five-man unit. Mekhi Becton was expected back from a knee injury. More good things were expected in Alijah Vera-Tucker's sophomore season. GM Joe Douglas signed the veteran guard Laken Tomlinson in free agency. George Fant was coming off a strong 15-game 2021 season. Connor McGovern was again the rock at center.
And then, a unit that looked so go good, so promising (and that added Max Mitchell in the draft) suddenly wasn't.
"I think when I talked about consistency and stability with the whole offense, I think you can go right there with the offensive line," Douglas said during his season-ending news conference earlier this week. "I think, we come into training camp and it's going to be George and Laken and Connor and AVT and Mekhi, and that quickly changed, right? And so, we get Duane [Brown] in here and we lose Duane in a non-padded practice for four weeks, so there's change there. Max comes in, does a great job filling in, so I guess my big point is it was hard to find a level of consistency and stability within that group this year."
The Jets went with nine different combinations on the offensive line, a situation that had a huge impact on the passing and the running games. In the final five games of the season, the Jets rushed for 305 yards -- and a big part of that decline came with the loss to season-ending injuries of rookie running back Breece Hall (who missed 10 games and still led the club in rushing with 463 yards) and Vera-Tucker (who played three positions before his triceps injury) in the Week 7 game at Denver.
"And despite all of the change upfront, I really felt like we were in a good place after that first Buffalo game," Douglas said. "Remember that fourth-quarter drive [13 plays over 86 yards, 10 of them runs to the winning field goal], our last offensive drive. I think it was a six-minute drive [6:10], we were running the ball really well.
"It felt like we had really gotten over the hump, and we were playing with a banged-up unit with backups. But again, there were obviously more changes and less stability, so ultimately, I think we, in an ideal scenario, you got your starting five and all of them are playing together all year. Maybe that's not realistic, but that's going to be the goal, trying to find five guys that can play together all year."
Mitchell will be returning after missing games late in the season because of a blood clot. Becton, who has played in one game the past two seasons, worked all season at the Atlantic Health Jets Training Center, and has lost weight and gained strength. He is entering the final year of his rookie contract.
In addition, McGovern and Fant are free agents, while Duane Brown, who is 37, could be headed for shoulder surgery. With the No. 13 pick in April's NFL Draft, the Jets could look to add depth on the offensive line, or perhaps pursue a veteran(s) in free agency.
In response to a question about Becton, Douglas said: "This is a big offseason for Mekhi, and I think he understands that. I think, certainly, our offensive line has missed what he can do for the last two seasons. This is a big offseason for him. Obviously, it's going to be important that he's able to hit the ground running, be in the best shape that he can be, and that's going to make for a healthy 2023 for him."
For Robert Saleh, This Stat Doesn't Lie
Injuries are a fact of life in the NFL. And though no one expects any sympathy, the Jets loss of rookie RB Breece Hall and the versatile OL Alijah Vera-Tucker both at Denver in Week 7, ultimately had a devastating impact on the Green & White's offense -- indeed on the remainder of the season.
HC Robert Saleh spoke about one statistic that helps tell the story of why the offense struggled in the run game, especially late in the season.
"Well, I think a perfect example, I read a stat when AVT was on the field with Breece and we had a run play, it was something like 90 carries, 5.6 yards a carry, which was No. 1 in the NFL. And when it wasn't [when Hall and AVT were out injured], it was under 4 yards a carry.
"So, it's a really, really big difference when those guys are on the football field, they just open up everything in regards to, and it makes it easier to protect, it makes it easier for the quarterback, it makes it easier for everybody when the O-line is humming, and the backs are humming, and it just makes everything easier."
Overall, the Jets finished tied for seventh in the fewest yards rushing (1,686) in the league (4.2 yards a carry), had the second-fewest TD passes (15), were tied for second-fewest TDs overall (29), and were tied for third-fewest yards gained per pass play (6.4), all according to stats at NFL.com.