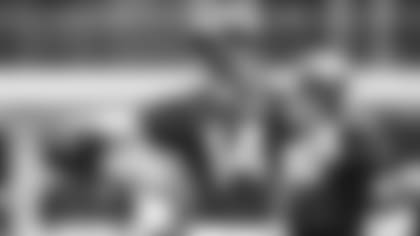 Quarterback Sam Darnold, head coach Adam Gase, offensive coordinator Dowell Loggains and the Jets' staff continue to put their shoulders into getting Darnold, the passing game and the offense moving again. But one thing they're not doing as they struggle to put their best foot forward is pointing the bony finger of accusation at anyone but themselves.
"We need to do things well around Sam," Gase said before Thursday's practice at the Atlantic Health Jets Training Center. "But at the same time, it's on me to get him to play better than what he's played, and so far I haven't done a good enough job. I have to just keep trying to help him, keep trying to help our staff put together good game plans, Dowell and myself, just keep trying to work as hard as we possibly can to put him in the best position possible."
Darnold wasn't buying his coach's mea culpas. He had some of his own.
"First of all, I take full responsibility for the way I've played. I haven't played well enough," the third-year QB said after the practice for Sunday's MetLife Stadium matchup with the Las Vegas Raiders. "Like I continue to say every single week, we've got great people in this organization. That being said, everyone's going to take blame for certain parts of us not winning games. But for me personally, I've got to play better and put the team in position to be able to win games and make it close at the end."
The most important thing is not fixing the blame but fixing the problems. One issue that has arisen is that in Darnold's last four starts, he's thrown no touchdown passes.
That oh-fer has been attained by some good QBs in franchise history. Boomer Esiason in 1993 went five starts without a TD pass, Ken O'Brien the last four games of '91.
What many fans may have forgotten is that the Joe Namath Jets went six games in the middle of the '68 season with only rushing touchdowns plus a Johnny Sample pick-six. In that span, Namath ran for more TDs (1) than he threw for (0). Yet the Jets won five of those six games en route to Super Bowl III.
"You can't control the past, you can only control the present and what you do in the future," Darnold said of his slump. "So for me, I'm looking forward to going out there this weekend and playing better. And at the end of the day, throwing touchdowns is nice but all I care about is winning. Obviously when you're a quarterback and you're not throwing touchdown passes in consecutive games, usually that's not a good thing. So I've just got to continue to put our team in the right position to be able to score points, finish in the red zone, and win games."
Can it be done against the Raiders, a team that started the season hot but has cooled off to 6-5 especially after Sunday's 43-6 loss at Atlanta? A team that came to MetLife last year at 6-4 but left with a 34-3 shellacking administered by Darnold and the Jets?
Darnold said this year's version of the Silver & Black is good but his shoulder feels good, his mind is clear, and he's ready to get after that first win for him and the Green & White once more.
"We've got our hands full this week," he said, "and we're excited for the challenge."
See the Best Photos from Thursday's Practice During Week 13