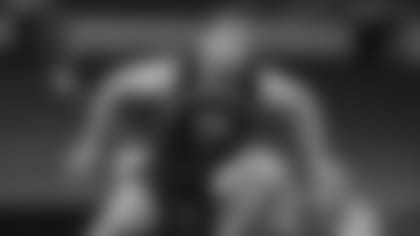 Despite speculation circulating around that Oklahoma QB Kyler Murray could become No. 1 pick in the 2019 NFL Draft, Ohio State EDGE Nick Bosa believes the Arizona Cardinals, who hold the top selection, would be making a "big mistake" if they passed on him.
"I wouldn't say anything about Kyler, but I'm somebody who loves the game more than anybody," Bosa said during his press conference at the NFL Combine. "I'm going to come in and work every day, every practice, try to find new things to better myself. So if you do draft me, you'll have somebody who's going to improve throughout my entire career."
The 6'4", 266-pounder told reporters he had formal interviews with the top eight teams in the draft at the Combine, including the Jets at No. 3. If Bosa fell to the Green & White, they could grab perhaps not only the top edge rusher in a talented group, but the top overall prospect.
"He's the best player in the draft in my opinion," NFL Network's Daniel Jeremiah said. "I think he's as skilled of a pass rusher as we've seen in a while. He's not the physical freak that we've seen from Myles Garrett and Jadeveon Clowney. He's not in that class. ... But, when the tape starts, you put it on, he's unblockable."
The Fort Lauderdale, FL native racked up 14 tackles, six stops for loss and four sacks in three games in 2018 before suffering a season-ending bilateral core injury. For his career, Bosa totaled 77 tackles, 29 tackles for loss and 17.5 sacks.
"It was the year I'd been waiting for my whole career," he said. "I kind of split reps my freshman and sophomore year. I was coming in, I was going to be the guy. I started strong the first three games and it just got torn away from me. It's something that I'll always think back to, but it's tough."
While the 21-year-old only played 29 collegiate games, he probably has a good sense of what it takes to succeed at the next level. His father, John, was the No. 16 overall selection in 1987, his uncle, Eric Kumerow, was the 16th pick the year after, his older brother, Joey, was the No. 3 pick in 2016, and his cousin, Jake Kumerow, is a wide receiver for the Packers.
So, what is the youngest Bosa expecting in the pros?
"Just better players," he said. "You may have quarterbacks who may sit in the pocket a little longer, which helps, but bigger, more athletic tackles, who face tremendous players every week, so it's not a surprise when they play somebody who has a wide array of moves."
Bosa believes his tape and technique separate him from the rest of the edge crop that includes Kentucky's Josh Allen, who is considered a potential top-five selection, Clemson's Clelin Ferrell, Mississippi State's Montez Sweat and Michigan's Rashan Gary, among others.
"The actual love of an art. It's really a crazy art form, pass rushing," Bosa said. "It's a lot more than just being bigger and stronger than somebody. It's figuring out how to use all of your tools to get around him. It's obviously a big premium in the league right now and that'll show on draft night."