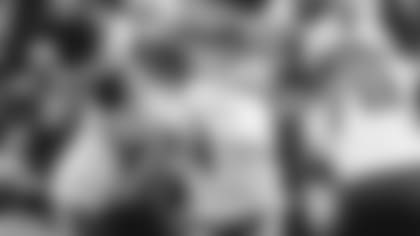 The 2020 offseason events officially commenced this past week as scouts, coaches, analysts and players around the league gathered to attend the NFL Combine. With Joe Douglas in his first official free agency period and draft season as general manager for the Jets, NFL Network's Daniel Jeremiah believes there's an important area the first-year GM should remain focused on.
"To me this offseason is about your quarterback Sam Darnold and you start with the protection," Jeremiah said to newyorkjets.com's Ethan Greenberg. "They've got to get better up front. You make a case and you go find two tackles. It's a premium position. The depth at the position — you're talking about five, six or seven quality players and then there's a bit of a dropoff. Receiver-wise, there's so many of them. You can find good ones in the second and third round that I might sacrifice a player that's maybe a little bit higher rated as a receiver and bypass that to get that tackle taken care of."
Enhancements along the offensive line when looking back at last season's numbers. In 2019, the front line permitted Darnold to be sacked on 9.98% of his pass attempts, which ranked 30th in the league. The O-line allowed 52 sacks overall, with only three other teams in the NFL allowing more sacks last season.
"Obviously, we need to have a strong offensive line," Douglas said when addressing the media during the Combine. "We have to do a good job of taking care of Sam moving forward."
Having crossed paths with Douglas in Baltimore when both served in the scouting department, Jeremiah has full confidence that the Green & White's new GM can get the job done.
"Joe is a couple of things," the eighth-year NFL Network analyst said. "He's very disciplined, he's smart and he believes in building a team a certain way. It's going to start with toughness and physicality, which is just the way that he was raised in Baltimore in that organization. Being able to protect the quarterback, being able to get after the quarterback is the identity that you're going to find with him. Again, I just think it's an offseason for your quarterback Sam Darnold. What do you have to do to get him some help and to see if he can take that next step? I think Joe is as good as it gets in getting that done."
With four current picks in the top 80 of the draft — a first-rounder, one second and two thirds — Douglas has the flexibility to create depth at many positions in need and address the most critical areas of the roster. However, the possibility of trading down and gaining more draft capital remains a realistic option.
"I would almost think you'd be more likely to go the other way," Jeremiah said. "To slide back and collect more picks in the second-, third-, fourth-round range is kind of the sweet spot for some of the needs we mentioned [offensive line, edge, wide receiver]. That's a good place to park yourself and they're going to get some of those needs done. They've got a good staff. It's a great group. When you believe in your staff, to me you have more freedom to say, 'hey, let's get more picks, let's slide back and get more picks to get more shots at this thing."