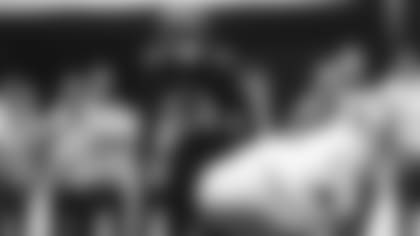 Jets general manager Joe Douglas told the media at the NFL Scouting Combine that corner and pass rusher are the two critical aspects of any defense. Douglas commended defensive coordinator Gregg Williams and his staff for dealing with a ton of injuries on his side of the ball, especially at cornerback.
The Jets started eight corners in 2019. Brian Poole and Maurice Canady are scheduled to become unrestricted free agents, Arthur Maulet is a restricted FA and the Jets have decisions to make on Trumaine Johnson and Darryl Roberts. The Jets can re-sign Poole and Canady before the new league year commences on March 18, but our focus here is some of the notable cornerbacks who could be available in a couple weeks.
The Big Three
Byron Jones (6'1", 200): Jones is expected to demand a heavy price tag after spending his first five seasons with the Cowboys. The 27-year-old has 2 career interceptions and 44 pass defenses in addition to 270 tackles. Jones has been durable for Dallas, missing just one game since he was drafted in 2016.
James Bradberry (6'1", 212): Bradberry has been a staple of the Panthers' secondary since he was drafted in 2016, starting all 60 games he's played. The Samford product has missed four games in his career and has totaled 8 interceptions and 47 pass defenses.
Chris Harris Jr (5'10", 199): Harris has spent all of his nine seasons with the Broncos. Since he was drafted in 2011, the four-time Pro Bowler ranks 10th in the NFL among CBs with 86 pass defenses. Harris, however, has never totaled more than 3 interceptions in a season. The 30-year-old had 3 picks in 2012, '13, '14 and '18.
Second Wave
Logan Ryan (5'11", 195): Ryan enters free agency coming off his best statistical year in Tennessee. He had career-highs with 4.5 sacks, 18 pass defenses and 4 forced fumbles in addition to tying his career-best 4 interceptions (2015). The 29-year-old spent the first four years of his career with the Patriots and the last three with the Titans and has 494 tackles, 11 sacks, 78 PD, 17 INT and 8 FF in 109 games (85 starts).
Bradley Roby (5'11", 194): Roby played in 10 games in his first year with the Texans and had 2 interceptions and 8 pass defenses. He has started 39 of the 90 games he's appeared in, playing behind Aqib Talib and Harris in Denver until Talib left for LA. As a full-time starter the past two seasons — 2018 with the Broncos and '19 with the Texans — Roby had 3 INT, 20 PD, 3 FF and 80 tackles in 25 games.
Birds on the Move?
Ronald Darby (5'11", 193): Darby battled injuries in his three years with the Eagles, missing 20 games from 2017-19. Could general manager Joe Douglas be interested in bringing in someone from Philadelphia, his former home, to One Jets Drive? The 26-year-old has totaled 251 tackles, 8 INT and 65 PD in five seasons (2 with BUF, 3 with PHI).
Jalen Mills (6'0", 191): Mills spent his first four seasons in Philadelphia. The former seventh-round pick out of LSU has totaled 208 tackles, 37 PD and 4 INT in 48 games (34 starts).
Jimmy Smith (6'2", 210): Smith has spent all nine of his NFL seasons with the Ravens since being drafted in the first round in 2011 out of Colorado. The 31-year-old overlapped with Douglas in Baltimore from 2011-14. Smith has only played a full season twice in his career (2013, '15) and has started in 83 of his 107 games. He has 329 tackles, 14 INT and 70 PD.