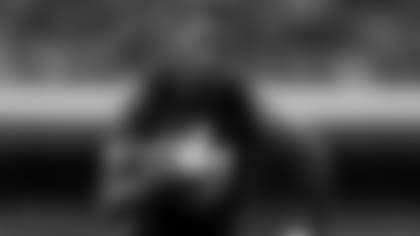 The dash, the drills, the lifts and the measurements have all been tallied and tabulated. The 2022 NFL Scouting Combine may be history, ending on Sunday in Indianapolis, but the professional football history of the players who attended is still to be written.
Perhaps saving (some) of the best for last, defensive backs were part of the Combine's final day of workouts. It's a deep position group that could contribute a few players among the top 10 selections in the NFL Draft (April 28-30 in Las Vegas). The Jets, with two picks in the first round (No. 4 and No. 10) are well positioned to address their needs (in free agency, which begins on March 16; and the draft) in the defensive backfield and elsewhere.
Among those players at the top of the class are Notre Dame safety Kyle Hamilton and Cincinnati cornerback Ahmad (Sauce) Gardner, both of whom turned in impressive performances at the Combine.
"The talent at the top is exciting," said Daniel Jeremiah of NFL Network. "The story is overall depth at key positions. Depth is the word."
Safety Kyle Hamilton Can Do It All
The Notre Dame standout has been tabbed as the No. 1 safety in the draft. At present, the Jets have decisions to make on veterans Marcus Maye (who played under the franchise tag last season) and Lamarcus Joyner. Each player sustained season-ending injuries in 2021 and they are scheduled to be free agents. Ashtyn Davis stepped competently into the void, with help from Elijah Riley, Jarrod Wilson and Sharrod Neasman, plus Jason Pinnock who was drafted as a CB but played safety late in the season.
If tempted, will Hamilton still be available when it's the Jets' turn at No. 4?
"Hamilton is a guy who's going to make a huge impact for a lot of reasons," Andrew Hawkins of NFL Network said last week. "He can play inside the box or play on the back end. He's huge at 6-4, 220, still growing and developing into his body. In an NFL game, it's about matchup and gamesmanship. He's a guy who can do it all. Versatile players is where the NFL is going. This guy is at a different level. The impact he's going to make on whatever team he's going to end up on is going to be big."
Hamilton comes from a basketball family -- his father played professionally overseas and his brother played in college -- but he chose the oval over the round ball and has never looked back.
Asked what it would mean to be the first DB selected in the draft, he said: "It would be surreal. I've always wanted to be an NFL player and to get a foot in the door, it's something I could never have imagined. It would be a blessing."
Hamilton played seven games this past season for the Fighting Irish before sustaining a right knee injury that ended his season (he could have returned to play in the Fiesta Bowl against Oklahoma State, but opted out to prepare for the Combine and the Draft). He chose to skip his senior season and declare for the draft. In three years in South Bend, Hamilton made 97 solo tackles (139 overall), 7.5 tackles for loss and had 8 INTs (3 last season).
"I definitely feel a weight off my shoulders," he said after his Combine performance that included a 4.59 time in the 40-yard dash. "I have some stuff to clean up, but I thought I did well overall."
Cornerback Sauce Gardner Has the Moves
OK, so no one but his mother calls him Ahmad, his given name. And his nickname Sauce goes back to his days playing youth football.
"I was 6 years old and my coach gave it to me," Gardner told NFL Network. "I was playing running back and I had the moves, he said I was saucy with the moves."
Playing at Cincinnati, Gardner contributed a bit of extra sauce, if you will -- over three seasons with the Bearcats he notched 9 INTs and did not allow a touchdown in coverage, according to Pro Football Focus. He is the only FBS player who faced 120+ targets and allowed 0 TD from 2019-21
"Gardner is my top cornerback in this draft class," said Daniel Jeremiah of NFL Network. "He came in [to the Combine] tall, long and well-dressed [in a sport jacket and collar shirt] went out in low 4.4s in the 40. He has the size [6-3, 190] and length. He's fluid and loose. He has cemented his status as the No. 1 corner."
The Detroit native in 2021 was the defensive player of the year in the American Athletic Conference and a first team Associated Press All-American when he usually faced the opponent's No. 1 receiver.
"My goal is to dominate and eliminate the best receiver on the field," Gardner said. "My game matches my nickname. I'm a player who has a lot of confidence. I can be physical, get my hands on receivers, and just fly around and have fun."
And even though the Jets received a boost last season with the strong play of a young cornerbacks group -- which included second-year man Bryce Hall, and rookies Brandin Echols and Michael Carter II -- continuing to build a dynamic and deep defense is always a work in progress.