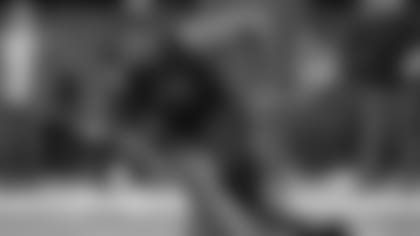 The 2022 Combine is in the books and the candidates continue their headlong pursuit through pro days and interviews to the late-April NFL Draft in Las Vegas. But as always happens, this year a number of prospects made great leaps forward out of Indianapolis to better position themselves on the draft's back stretch.
This year we even have a theme: The Georgians vs. Dogs Who Are Not 'Dawgs. At least three Bulldogs defenders from their 33-18 national championship win over Alabama either improved their draft stock or forcefully underscored their early value board positioning with outstanding showings in Lucas Oil Stadium.
Not to discount the strong efforts in Indy from all the other top candidates but here are eight Combine standouts for your consideration:
The Georgians
Edge Travon Walker (6-5, 272), Georgia — Among the several players whom some draft analysts are seeing for the Jets at No. 4 is Walker, who spread out his six sacks in '21 from the Bulldogs' opener vs. Clemson to the finale vs. 'Bama. Then he showed his speed and athleticism at the Combine with a 4.51 time in the 40 (third among D-linemen in Indy), 6.89 in the three-cone (second) and 4.32 in the short shuttle (fourth).
DT Jordan Davis (6-6, 341), Georgia — Davis was a monster in Indy, flooring his large frame for a stunning 4.78-second 40 time. Putting that in perspective, since 2000, only 10 other 300-plus-pounders on either side of the ball matched or beat that time, and all weighed less than 315 pounds. The only big-man time close to Davis in the last 22 years was Dontari Poe's 4.89 time at 346 pounds in 2012. Davis' speed plus his size explains how he consistently defeated blocking schemes for UGa's front and why he's inching up mock drafts into top-10 territory.
S Lewis Cine (6-2, 199), Georgia — Kyle Hamilton's been perhaps the top safety name mentioned as a top-5 draft choice. But Cine, while not necessarily passing Hamilton, busted a move up many boards at the Combine. His 4.37-second the 40 was fifth-best among safeties and his 11-1 broad jump was also best at his position, tied for best among all defenders and tied for fourth overall.
The Non-Dawgs
CB Ahmad "Sauce" Gardner (6-3, 190), Cincinnati — If Jets fans are looking for a corner at 4 or 10, they frequently hit the "Sauce". The Bearcats' Gardner has great length and plays press coverage with confidence and BBQ-like "stickiness," with which he produced nine INTs and allowed no touchdowns in three college seasons. He also ran a 4.41 time in the 40, middle of the pack among corners but "special," according to Peter King on NBC Sports' website. That was his only event at Indy. And he'll need to work on his frame and on his sometimes handsy play, but he's a corner on the move.
WR Chris Olave (6-1, 188), Ohio State — The best part of Olave's Combine probably wasn't the events. His 4.39-second time, while good, was eighth-fastest among WRs, and his 32" vertical and 10'4" broad jump were middling numbers. But he reportedly caught everything in sight, short balls and long, was effective lining up inside and outside, and displayed his "quiet storm" style — "smooth, steady and makes things happen," according to NFL.com analyst Lance Zierlein.
WR Christian Watson (6-3, 200), North Dakota State — Watson's got a lot going for him: Size. Production: 105 catches for 2,140 yards (20.4 per catch) and 14 TDs over four seasons with the Bison. Versatility: He averaged 8.0 yards/carry and 26.4 yards on KO returns, with two in 2020 for TDs. Bloodlines: His dad played S for three teams over five NFL seasons. As for the Combine, his 4.36 time in the 40 was the sixth-fastest in a very fast WR group. And his 11'4" broad jump was the best by any prospect at Indy. He should start to move into Round 1 on the mocks over the coming weeks.
RB Breece Hall (5-11, 217), Iowa State — Hall may be the best of this buzzless RB group. His top event in Indianapolis was the vertical jump — his 40.0" leap was the best among backs and tied for 7th overall. His 10'6" broad jump was third-best at RB and he turned in a 4.39-second 40. He may not be eye-popping but he just shifts into overdrive and produces, as his five touchdown runs of 75-plus yards for the Cyclones would suggest.
CB Tariq Woolen (6-4, 205), Texas–San Antonio — As it turns out, Woolen was not overselling himself when he said he could run under 4.3 seconds in the Combine 40. He roared to a 4.26 time that was just a tick behind Baylor CB Kalon Barnes at 4.23 and one of the fastest 40s in Combine history. Plus Tariq tied for the Combine's best vertical leap at 42.0". He's still raw but he's still got that great length and should continue rising up boards for the next two months.