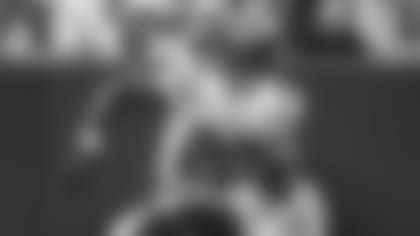 With the 2023 NFL Combine set to begin next week, NFL.com contributors by Eric Edholm and Nick Shook collaborated to rank every team's 2022 draft class. They selected the New York Jets 2022 draft class, which includes Sauce Gardner, Garrett Wilson, Jermaine Johnson, Breece Hall, Jeremy Ruckert, Max Mitchell and Micheal Clemons at No. 1 among all 32 teams.
"Top-10 picks Sauce Gardner and Garrett Wilson were two of the best rookies at their respective positions, with each taking home a rookie of the year honor, and it didn't hurt that they pushed each other in some strong training camp battles," Edholm wrote. "Gardner looks like a star and a rare shutdown corner. Wilson could be the Jets' WR1 for years to come, proving to be excellent despite subpar QB play after the Jets struck out on trading for Tyreek Hill."
Gardner and Wilson were immediate difference makers in their rookie season for the Jets. Not only were they named AP Defensive and Offensive Rookie of the Year at the NFL Honors last month, but Gardner was named to the Pro Bowl and a first-team All-Pro. He is the first cornerback in franchise history since Darrelle Revis in 2011 and the only Jets rookie to make the first team. Gardner finished his rookie season with 75 tackles and 2 interceptions. Wilson led all rookies with 1,103 receiving yards and 83 receptions. Wilson was also the first receiver in Jets franchise history to eclipse the 1,000-yard mark as a rookie and broke Keyshawn Johnson's franchise rookie reception record (63) from 1996. Breece Hall had just as much potential as Gardner and Wilson according to Edholm.
"Breece Hall was on a path toward being an offensive rookie of the year favorite prior to his ACL injury" Edholm wrote. "Assuming he returns to full health, the state of the Jets' running game appears strong. The nice addition of undrafted rookie Zonovan Knight only bolsters the position further."
Hall, while only playing in seven games, finished as the Jets leading rusher with 463 rushing yards on 80 carriers, and had 218 yards on 19 pass receptions in his rookie season. He led all rookies when he averaged 97.3 yards a game, gaining 5.8 yards a carry. Knight, who was inactive the first 11 weeks, stepped in when Hall went down. Knight played in 7 games and finished the season third on the Jets in rushing yards with 300 and totaled 400 all-purpose yards. He finished 10th among rookies and second among undrafted tailbacks in rushing yards. The remaining rookies Johnson, Clemons, Mitchell and Ruckert also made encouraging contributions.
"Jermaine Johnson II and Michael Clemons had steady reserve roles as rookies on a deep Jets D-line, but each flashed on defense and blocked a punt that resulted in a score," Edholm wrote. "Their arrows are up. Max Mitchell struggled in his early snaps before blood clots ended his season. Jeremy Ruckert figures to get more chances eventually with his athletic profile but showed little in Year 1."
In 14 games, Johnson totaled 29 tackles and 2.5 sacks. He added a blocked a punt that resulted in a safety at Buffalo in Week 14. Clemons, also a key member of the defensive line rotation, had 36 tackles and 2.5 sacks. His Week 6 punt block at Green Bay led to a Will Parks TD. Mitchell, drafted as a project, started 5 games at right tackle in a constantly changing offensive line before sustaining a knee injury, and later finishing his season early due to blood clots. Ruckert, who missed most of his first offseason due to a foot injury, has a lot of potential in the competitive Jets' tight end room. 
"The Jets were armed with draft-pick munitions, making seven picks in the first 117 selections, including four in the first 36 picks, and called it a draft," Edholm wrote. "The good news is that most of their early decisions look extremely promising after one year."
See the top photos of the 2022 Jets rookies during their first season.