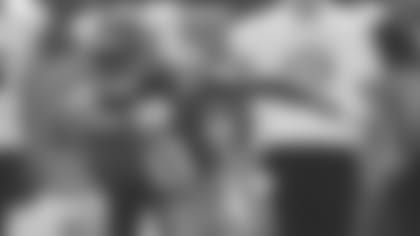 Elijah Moore, the Jets' second-round WR selected out of Mississippi on Friday, is a person who not only likes to work hard, get open and run like mad after the catch, but who also likes to shake 'n' bake with the English language on occasion, to often delightful effect.
As the 5-9, 178-pounder said recently about his style of play: "At the end of the day, when the lights come on, when its time to go, I'm going to be ready. It's all going to come to the light."
Here are six more things we found to bring to the light about Moore the player and the person.
Among the Best Since '09
Numbers don't define the man, but Moore's numbers this past season, his junior year at Ole Miss, are amazing in and of themselves. His per-game averages for receptions and receiving yards look gaudy without any context.
But then consider that in the last 12 FBS seasons combined, Moore's 10.75 catches/game was the fourth-best among all qualifying receivers. Also on that list are Davante Adams, the Packers' perennial Pro Bowler, and Zay Jones, who started with the Bills and is now a Raider. Then there's Jordan White, the Jets' 7th-rounder in 2012 who had 140 catches for Western Michigan in '11, then one catch in three games as a pro.
As for yards/game, Moore's 149.1 is the best in the college game over those past dozen years. Justin Blackmon, a Jaguar for three seasons, came closest with 148.5 for Oklahoma State in 2010. White, third in catches/game, shows up third in yards/game also at 147.0.
Here are the top five FBS receivers in both categories from 2009-20:
Table inside Article

| Receiver, College | Year | Rec/G | Receiver, College | Year | Yds/G |
| --- | --- | --- | --- | --- | --- |
| Zay Jones, E.Carolina | 2016 | 13.2 | Elijah Moore, Mississippi | 2020 | 149.1 |
| Freddie Barnes, Bowling Green | 2009 | 11.9 | Justin Blackmon, Oklahoma St. | 2010 | 148.5 |
| Jordan White, W.Michigan | 2011 | 10.77 | Jordan White, W.Michigan | 2011 | 147.0 |
| Elijah Moore, Mississippi | 2020 | 10.75 | Rashard Higgins, Colorado St. | 2014 | 145.8 |
| Dav. Adams, Fresno St. | 2013 | 10.1 | Zay Jones, E.Carolina | 2016 | 145.5 |
Tough to Compare
Which NFL wideout does Moore remind people of the most? Elijah's heard Steve Smith, the mostly Carolina Panthers WR who finished his distinguished pro career with 1,031 catches, 14,731 yards and 81 TDs. One of the people he may have heard it from this past year was Lane Kiffin, his first-year HC at Ole Miss.
"This is a first-round slot," Kiffin said of Moore. "I didn't coach [Smith] but he kind of reminds me of the Carolina Steve Smith. Just the stop-and-start ability is so explosive, and he's a great route runner."
But while Moore has heard it, he doesn't buy into it.
"I don't think I play like anybody," he has said. "I take a lot of stuff from a lot of different people. I don't even watch football highlights. I take a lot of things from people and put it into my game. Looking at it, I don't think I play like anybody that's been in the league."
People Influencer
If Moore could bottle his attitude and sell it at the refreshment stands, he might have a good side occupation. His drive is less for personal accolades and more to succeed, and that already rubbed off this past season on Rebels QB Matt Corral.
"I wouldn't say Elijah's the only reason for why I started changing the way I was, my work ethic, but he for sure played a part," Corral said. "Just watching him work out, hanging out with him outside of football, the kid was always working. That rubbed off on me back in the summer. We would always be together, and I was slowly trying to change my mindset, and finally it clicked. Working with him in the offseason created that."
As Moore said after his pro day: "I feel like whatever team I get drafted to, I'm going to be the hardest worker on the team right away. Whatever team gets me is gonna get a dog."
Quoteworthy Showman
Moore is all about football so there aren't a lot of neat things yet about his favorite movies and music and foods, but that's coming, we're sure.
On the other hand, he's quite eloquent when it comes to talking about his game. Here are three more quotes from Moore after his pro day:
How's he doing? "I'm doing great, man. I'm blessed. ... I'm a God-fearing man, I give everything to God."
How does he approach running routes, especially against press coverage? "Just go in with a plan, and just have a plan for your plan. Whenever someone feels like they have a plan for what you want to do, you come up with something. Always come in with more than one plan."
What was his motivation at your pro day workout? "I just wanted to put on a show."
Fast Times
By all accounts, Moore did put on a show at the Ole Miss pro day in March. Most impressive was his 40-yard dash. Pro day numbers will be a little faster than NFL Combine numbers but his 4.32-second time "stole the show," according to 247sports.com's OMSpirit page.
Of the 60 wideouts whose pro day 40s were recorded (using different methods and watches, of course) on nflombineresults.com, Moore was tied with Purdue's Rondale Moore for fastest time. And his 4.32 was faster than all but one WR at the 2020 NFL Combine — the 4.27 of Henry Ruggs, whom Jets fans remember painfully well since he grabbed the last-second game-winning TD pass for the Raiders against the Jets at MetLife on Dec. 6.
Two other times: Moore's 4.00 in the 20 shuttle was faster than all but the 3.99 of Ja'Marr Chase of LSU, taken fifth overall by the Bengals. And Moore's 6.65 in the 3-cone drill was second only to the 6.51 of Central Florida's Jacob Harris.
The Name Says It All
Moore, who wore No. 8 at Ole Miss, has his own very stylish personal website, with chapter headings such as By The Numbers, About Elijah, What They're Saying and Videos. What's the name of this site? It's pretty easy to remember: 8isopen.com.