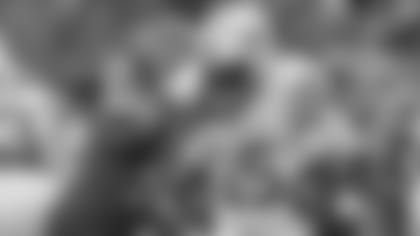 Jets third-round draft choice Jachai Polite, the edge rusher from Florida, has an unusual Twitter handle — @RetireMoms — whose significance he enjoys explaining.
"It's to retire my mom. She's a very hard worker," Polite explained after he was selected with the Jets' own pick, 68th overall, in the round. "She's been working hard since she was 12, laboring and hard work. I just want to repay her somehow, some way, and hopefully it's with football.
"I'm going to give her everything she's ever thought of and can't think of. I'm going to give her a lot of things to repay her for her hard work."
Polite is probably playing the right position with the right team to realize those grand dreams of payback, but only, of course, if he can become the type of edge rusher the Green & White haven't had in a while. He said he "didn't have an idea or a clue" to which NFL team he was heading, but he's glad it's the Jets after he enjoyed his recent visit to the Atlantic Health Training Center in Florham Park, NJ.
"It was great," he said. "I felt really good and comfortable with the coaching staff. I just like what they're about, the whole program. ... A family type feel, a lot of young people. They're rebuilding and they're just missing a couple of pieces so they can make a big run. Hopefully I'm a part of that in this draft class."
Another thing that makes Polite comfortable is potentially teaming up with the Jets' top pick, fellow SEC D-lineman Quinnen Williams, from Alabama, and with DL Leonard Williams, from his same Florida high school, Mainland in Daytona Beach.
"It's very cool to come out of that conference, being one of the top guys and playing with one of the top guys. So it should be fun lining up along with Quinnen," he said. "And when I visited them, I saw that Leonard went to my high school, so that's very cool."
So what kind of a player have the Jets brought in to the organization in Polite? He describes himself as "I can bend, a little bendy, first-step explosion." But it took him a while to put his game together after he came to the Gators program "a little heavy, probably like 275, and I played 3-technique and defensive end in a 4-3 scheme,"
But over his three seasons at UF, he worked closely with Collier Perno, head of football nutrition at Florida, to get into that kind of shape. "Since then," he said, "I was just shedding fat and gaining muscle and getting faster. I am who I am today thanks to losing weight and eating right."
He enjoyed a career season in 2018 with 11 sacks and six forced fumbles that led all FBS defenders.
"It's just something I've always thought about," he said of his emergence as a Gators force. "Being a defensive player, we're allowed to get the ball, too, and get it back to our offense. As I'm approaching the quarterback, I just think about getting the ball."
If Polite can do all those things as a member of the Jets, he'll be on his way to "Retiring Mom."