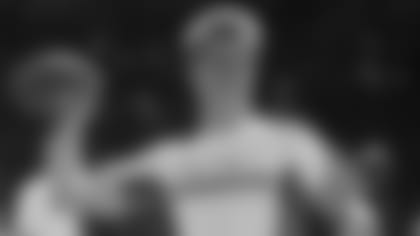 As hundreds of high schoolers take their next steps in their football careers on National Signing Day, let's go back to 2014 and 2015 when two current Jets signed with their colleges.
Jamal Adams – Class of 2014
Even in high school, Jamal Adams was fast, hard-hitting, energetic, charismatic and apparently prophetic.
"For some reason, ever since I've been young, I haven't been starstruck," Adams said in the interview below. "A star is really just somebody I look up to and I'll pick their brain if I talk to them or meet them. Tyrann Mathieu follows me on Instagram and we chop it up a little bit, and Patrick Peterson. I can't wait to meet all those guys, learn from them and become the best like they are."
The No. 6 overall pick in 2017, Adams was a five-star prospect according to 247sports as he played safety, running back and returner for Hebron (Texas) High School. The then 6'0", 199-pounder was ranked the second-best safety in the country and the fourth-best player in Texas (No. 27 overall in the class).
"At 6'0", Adams isn't one of the most physically imposing safeties around, but he's a hard hitter who notably has to rein himself in when he can't tackle during the summer and has the feet and overall speed of a cornerback," SB Nation wrote. "So he'll be a scheme-versatile prospect in college who can play virtually any position in the secondary."
Adams announced his commitment to LSU during the second quarter of the Under Armour All-American Game with the help of his then seventh-month-old niece, who donned an LSU shirt. Adams' other offers included Texas, Texas A&M, Ohio State, Florida State and Florida, where his godfather, Joe Phillips, was an assistant coach.
"I just felt more comfortable there talking to all of the coaching staff," Adams told ESPN immediately following his announcement. "The opportunity at LSU was there for me, so I'm ready to go win some national championships."
Sam Darnold – Class of 2015
In addition to quarterback in high school, Sam Darnold lined up at tight end and linebacker as late as his sophomore year, not to mention his basketball career. The San Clemente product missed seven games his junior season because of a broken foot but was still ranked as the ninth-best dual-threat signal caller by 247sports despite starting five varsity games at quarterback.
Darnold was a late riser who received offers from Tennessee, Northwestern and Oregon in the spring before USC offered him a scholarship in June of 2015. Three years later, the 6'2", 225-pounder blossomed into the No. 3 overall pick. But at the time, Darnold was considered the second of two Trojans quarterback recruits behind Ricky Town, who eventually transferred before the team's first game in 2015.
"Recruiting is not an exact science," USC head coach Clay Helton said. "You hope you get it right more than you get it wrong. And you hope the ones you don't take, you don't have to play against. In Sam's case, if he had gone some place, I would have said, 'Please God, don't let us ever have to play that guy.'
"It was the right place, right time, with the right person, most importantly."