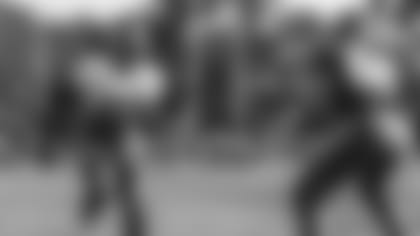 Sinking too much fan capital in one late July training camp play is a risky investing strategy. But one play Monday morning sure looked promising for Jordan Jenkins.
Le'Veon Bell took off down the left sideline, looking for the leap and grab on a Sam Darnold fade. But Jenkins went step for step with Bell, the accomplished RB receiver of the two Wednesday conditioning runs. Both jumped for the on-target pass, but the ball never found Bell's hands as Jenkins batted it away.
"Yeah, I'm older. Just turned 25," Jenkins said to chuckles from the "experienced" reporters in the crowd. "I'm more mature than I've been. I know the workload it takes to be a player in this league, and I know what needs to be done to get better.
"If you don't put in the work every day, it's not going to happen. Stuff ain't given to you. You've got to go out there and earn it."
The fourth-year man out of Georgia said he even took some tips from a former Jets first-round pick in that regard.
"I was talking to a coach on an old staff and we talked about Demario Davis," he recalled. "Every day from camp when he was here, Demario would stay after practice, we'd do a lot of work, and it helped him play better that year. I sort of stole his routine and now every day after practice, I try and work on something I need to get better at, work on my weaknesses."
On a given play, he said, "I know I could use a different move to probably win. But if there's a chance I could work a move I don't normally use, I'll throw it out there and try and use it. Because you're never going to get better using the same old moves over and over again. You've got to learn to add to your repertoire."
That certainly showed up in his Bell coverage today. And Jenkins has already established that he can supply a pass rush. His 7.0 sacks tied for the Jets' lead last season with DL Henry Anderson (and were the most by a Jets linebacker since Calvin Pace, who has returned to Jets camp as a scouting intern, had 10 sacks in 2013). Jenk's two strip sacks, vs. Miami and at Cleveland, tied for the most by a Jets LB since David Harris' two strips in '14.
And the top two unofficial QB hit totals by a Green & White 'backer in the past four seasons were 15 each by Jenkins last year and Davis in 2016.
As the heat increases for roster positions and playing time this summer, Jenkins said he can get the job done, whether moving forward or backward or making tackles at the line.
"Yeah, you could say that," he replied when asked if he's more of a hybrid. "I'll do what's asked. You need me to play 3-technique, I'll do it. You need me to play 5-technique, I'll do it. You need me to play off the ball, I'll do it. You need me to run down and be a wedgebuster on kickoffs, I'll do it. That's just who I am. I'll adapt to whatever you need me to do."