Muhammad Wilkerson chuckled when the game at Century Link Field in 2012 came up.
"That's four years ago," he said.
Nevertheless, the game was significant in Wilkerson lore. In an impactful first-half play, Mo rambled 21 yards with a Mike DeVito strip-sack of then-rookie QB Russell Wilson for a touchdown. Three minutes later, he separated Marshawn Lynch from the ball for a forced fumble and another Jets takeaway. Then he drew a holding penalty on a Seattle guard that pushed the hosts back out of Jets territory en route to a punt.
Wilkerson still smiles at the memory of what he did with the ball after the fumble return — he jammed it over the crossbar.
"Yeah, I was pretty happy about that play," he recalled, adding about if he's dunked since, "No, that's the only time. You get fined now. I like keeping my money."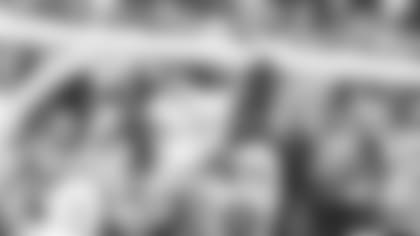 The Jets couldn't hold their Wilkerson edge in that game, slipping from 7-7 midway through the first half to 14-7 down through three quarters to a 28-7 loss. But Mo has been money in the bank from then to now, and the Jets will need a big payoff from him and his defensive mates when they meet the Seahawks for the first time since '12, Sunday at MetLife Stadium, to climb back to .500 at the season's first-quarter pole.
Wilkerson scouted the 'Hawks offense, saying, "They've got big guys up front, they like to run the ball, they've got some explosive guys on the outside. We've just got to do what we've been doing the past couple of weeks, setting the edges, make sure no balls are thrown over our head, and we'll be fine."
As for the banged-up nature of the Seahawks line, Wilkerson wasn't counting on anything automatically falling the Jets' way: "This is a next-man-up business. You can't worry about who's injured. We've just got to go out there, play and execute and do our job."
One major dimension of Wilkerson's job has been his sack ability, and he's followed up last year's career-best 12 sacks with 1.5 this season.
But three other often overlooked elements of his game make Mo the man he is on the Green & White line:
■ With one hold drawn this year against the Bills, he's forced opponents into 18 career 10-yard penalties (14 marked off).
■ With 1.5 tackles for loss at Kansas City, he leads the defense after three games with 3.5 tackles for loss, 4.5 tackles for loss/no gain.
■ Mo has yet to reject an opponent's pass behind the line of scrimmage, but since 2012 he's gotten 16 PDs behind the line. The rest of the Jets' defense in that time ... has 16 PDs combined.
"It's just natural," Wilkerson explained of the maturation of his pro talents, which netted him his first Pro Bowl invitation last year. "As humans, we're creatures of  habit. After playing for so long, you start to see things and recognize things when you're out there on the field. That's how you go about things."