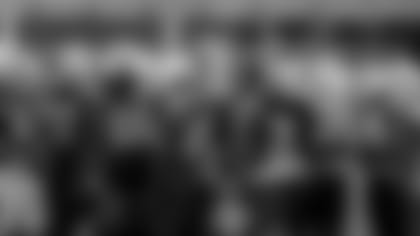 Todd Bowles has a little Orson Welles in him. Some things can't be rushed. The Jets head coach will sell no team identity before its time.
"Identity? We don't have one yet. We're still jelling, we're still blending," Bowles told reporters after today's second practice of the mandatory full-squad minicamp. "We're working on chemistry with some new pieces over there, obviously, with Avery [Williamson] and Trumaine [Johnson] and a couple of other guys, so we don't have one yet. Until we get to camp and get the pads on and get through the everyday grind, we don't have one yet."
But some chemical reactions are starting to percolate. We do know there is likely to be a trash-talking component to the Jets' identity, especially on defense where safety Jamal Adams and several others are leading the charge. The practice today featured a bit of verbiage.
"We got about seven or eight of 'em. I'll leave the names out of it right now," Bowles said. "We've got 'em on both sides ... coaches included.
"If it's spirited, it's fine. That's part of football. There's been trash talking for years," the coach continued. "As long as they know what they're doing, they can talk as much as they want. If they don't, they probably need to shut up."
Adams gives every indication he can talk the talk and walk the walk. He was asked about his irrepressible confidence.
"Not having confidence is ... that's just beyond me," he said. "I'm confident in this group, I'm confident in this team. I believe in this team, I believe in the players that are here and what we have."
So we know the Jets defense and team will have high confidence levels. But will the playing level keep pace? The D was a work in progress last year, having its ups and downs. The unit was 25th in the league in yards allowed, 24th in rushing yards allowed/game and 21st in passing yards allowed/game. But the run defense also was 15th in yards allowed/carry and had some fine individual games. Third down defense was even better at 12th. The Green & White's 20 takeaways, tied for 17th yet still improved over 14 TAs in 2016.
The Jets want to force more turnovers, and during the minicamp, even though QBs Josh McCown, Teddy Bridgewater and Sam Darnold have looked good, they've also been induced into turning over the rock a few times.
Bowles, unsurprisingly, isn't ready to take that to the bank.
"Turnovers are important," he agreed but cautioned, "It's minicamp. They need to come down with 'em in the fall, not right now in the summer. They're getting their hands on balls. They've just got to make the plays and that's what we're practicing right now."
Another way to put it is that being June's team is not going to cut it. But at least at this time on the calendar, the Jets defense, Adams says, is in a good place in the aging process.
"As long as we stay together, we'll be fine," he said. "I think everybody on the defense is definitely starting realize we can put something special together."