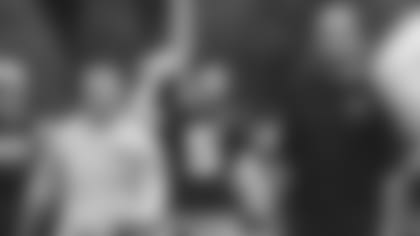 When a starter goes down in the NFL, the phraseology and philosophy across the league is "next man up."
But when a quarterback goes down? Jets offensive coordinator Mike LaFleur has a related phrase that seems just a little more in keeping with the glitz and glamour of the position.
"I mean, the show goes on, right?" LaFleur said, putting his spin on the knee injury that will force Zach Wilson into rehab mode for the next X number of weeks and Joe Flacco into the starter's role for at least the rest of the Green & White preseason. "It is what is is. For Zach, it's making the most of this situation."
There may be no ideal time other than March to lose your starting QB for about a month, but at least three things are working in the Jets' favor as LaFleur, head coach Robert Saleh, the offense and the team regarding their current QB particulars.
Kneéjà-Vu All Over Again
One is that Wilson recently experienced a process a lot like this. Some nine months and two weeks earlier, he twisted the same right knee at New England in Game 6 of the 2021 regular season. He missed the rest of that game plus four more games but didn't need surgery before returning and playing better over the season's second half.
"Obviously, Zach wants to be out on the field, but he can't be right now. He's got to get healthy," LaFleur said. "We've been through this thing before. He's going to bust his butt in the classroom, bust his butt in everything he's going to do, because he wants to be out there."
Saleh's take on this interlude is that Wilson's mental reps now are "priceless."
"It's the only thing he can do is meetings, walkthroughs — not that he's going to get walkthrough reps right now with just being fresh off the surgery, but being able to go back and watch practice, watch the walkthroughs, ask questions of the quarterbacks, talk with LaFleur and [QBs coach Rob] Calabrese, and absorb as much information as he can. Unfortunately, he's been through this before. It's going to be the same process now. He had a lot of great growth last year and we're expecting to have continued growth this year."
The Room's Decorated the Same
A second positive is that the Jets' QB room is unusually similar to last year's room. After Flacco returned to the Green & White in a trade with the Eagles, after Josh Johnson departed for the Ravens in December, before Chris Streveler signed this July, the room had the same five core actors — QBs Wilson, Flacco, Mike White, coaches LaFleur and Calabrese — that it does now.
"We didn't have to get to know each other going into this year like we did last year, with Zach being a rookie, I didn't know Mike, I didn't know James Morgan at all," LaFleur recalled. "When we all got back here in April, everyone knew each other, and so you can just hit the ground running right there. There's something to be said about that because of the trust factor. I believe they trust me, and I'm going to everything I can to help them be the best they can be, and they know Rob's going to do the same thing."
Among the teammates who expressed confidence in a Flacco fill-in period is T George Fant.
"Joe's been having a really good camp and he's a really good palyer," Fant said. "We;ve played with him before. We know what he brings to the table. He knows the system. So we're very confident in Joe's game."
You've Got to Know When to Fold 'Em
The final plus, although one that has to be internalized by Wilson for it to be a valuable lesson learned, is knowing when to cut a 7-yard scramble back inside and when to slide inbounds or jog out of bounds without contact and with the ball secured. Saleh reminded his QB that the best play in the second series of the preseason opener is to take that ball out of bounds, and LaFleur mentioned the same Thursday.
"These guys are competitors," the OC said. "What I said to Zach was, even if this was the first [regular-season] game in the first quarter, you still wouldn't want to do that. Now, you're in the fourth quarter of a game, on a third-and-5, and you're scrambling to go make a play to go win a football game, that's a whole different deal.
"Because of what happened," LaFleur said, "Zach's going to learn from that one. And we've just got to keep reminding him."