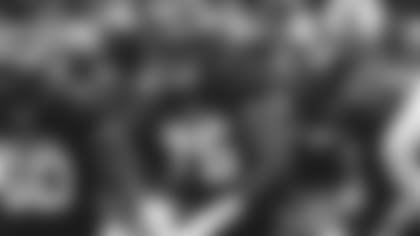 Alijah Vera-Tucker has a way of letting things just roll off his back.
First Thursday night game of your pro career?
"It's a quick turnaround, very fast," the Jets left guard said matter-of-factly after Friday's — er, make that Tuesday's practice for the Jets' TNF game at Indianapolis. "You've got to treat today like it's a Friday. Every minute counts, especially this week, just getting your body right treatment, film study, everything."
How about already playing alongside three left tackles — Mekhi Becton, George Fant and, midway through Sunday's game, former USC teammate Chuma Edoga — in your first seven games as pro?
"Everybody has their own playing style, but I think all three of them do a good job of communicating, stuff like that," he said. "But to me it really doesn't matter who's out there. I've got to do my job and I've got to help the guy next to me do theirs."
Mike White Mania? Any thoughts?
"I wouldn't know about that," he said. "I feel like Mike had a good game last week, but we're on to the Colts now so you've got to turn your head real quick."
To an outsider, AVT may be a mellow SoCal dude. To Jets watchers, it's no surprise that he lockers next to another top Jet in LB C.J. Mosley who's also known to speak softly but unmistakably lead by example. But there's no denying that Vera-Tucker has elevated his pro game really quick and really high for a half-season-old rookie. So said head coach Robert Saleh recently.
"He's getting better," Saleh said. "Another rookie who's got to adjust to the speed of the game and how quickly space moves inside, especially at this level. Every single 3-technique he sees is the best one he's ever seen in his life. And he's getting better every day and for him, it goes back to that football 101/301 stuff with regards to understanding the schemes so well that you can start focusing on your fundamentals, and when that happens, he's going to be really good.
"I couldn't be happier with him," the coach concluded. "He's made of the right stuff, he's got a great mindset. He's going to be a great left guard in this league."
The 6-4, 310-pound Vera-Tucker aw-shuckses such compliments, saying of his first NFL campaign, "I feel like it's going fairly well. There's always some things I know I need to work on. But so far I'm just having fun with it, taking it one game at a time."
AVT's next game will give the country's football watchers a chance to see how his coach's prediction is working out under the Thursday night lights as he and the Jets' O-line take on one of those top 3-techniques Saleh referenced in Indy's DeForest Buckner (a player Saleh is quite familiar with after serving as his D-coordinator with the 49ers for three seasons).
"I'd say he's a lengthy guy, a great player. I've got a whole lot of respect for him," Vera-Tucker said of Buckner. "He's tall, physical as well, so you've just got to match it up."
As dispassionately as he fields media questions, if you push Vera-Tucker enough, you'll get the sparkling soundbite of a young man about to participate in an NFL right of passage, starting in the regular season on a national primetime stage.
"Yeah, I'm very excited for Thursday," he said. "We're going to be the only game on, so everybody's going to be watching. That's a great opportunity just to ball under the lights."