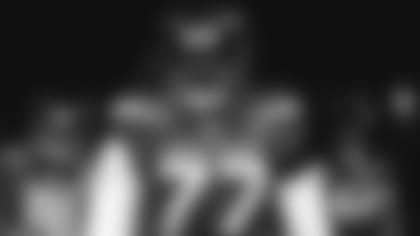 In reality, it would have been a major coup for Jets left tackle Mekhi Becton to be named to this year's Pro Bowl, whose rosters were announced Tuesday night. Especially at his position, rookies don't generally ascend to all-star status. With an electorate of fans, coaches and players, that's a tough nut for a first-year man to crack.
"It's just one of those things I can't control," Becton told reporters after Wednesdsay's practice about not making that particular squad, although he did come in first among tackles in the fans' online voting. "I mean, I go out there every day to win and do what's best for my team. The solo accolades are going to come when they come. So it's just something I can't control. ... Maybe I've got to do better."
Becton's been doing plenty well already. He's earned raves each game, from those fans, coaches and players plus the network broadcasters who work each game and sing his praises on the air. He's become a pivotal piece to the Jets' future offensive puzzle.
Case in point: When the Green & White absolutely had to have a touchdown against the Rams on Sunday, and it was fourth-down-and-goal from a foot away, Head Coach Adam Gase called for the ball to go to RB Frank Gore. And he called for the play to be run off Becton. The 6-7, 363-pounder sealed off Rams uber-DL Aaron Donald to the right, while Jets tight ends plowed Rams to the left out of the way, allowing Gore to go over and the Jets to up the ante to 20-3 en route to their 23-20 stunner.
"It was great because that's what I strive for," Becton said. "I want to have everything on my shoulders. I want the ball to be behind me in clutch situations like that. So it felt great."
Becton excelled in leading the Jets' charge against Donald, the NFL's leading sacker who was held to three tackles, one QB hit on Sam Darnold and one tackle for loss on a Gore run. He'll face another stern challenge in the Jets' final home game of the season, against the Browns and their top DE, Myles Garrett. Becton's ready.
"He's a real good player, really explosive," the young tackle said. "He has different tools in his toolbox, he does different things, so there's a lot of things I've got to key in on, hone in on, try to find a slight bit of weakness to give myself the advantage."
Even though he's still 21 years old and still a rookie, Becton is a savvy young veteran now. He can talk the talk and walk the walk, play the short game as well as the long game. He knows there are Pro Bowls in his future — "Definitely," he said — but equally important is how his O-line has continued to grow despite injuries and other fits and starts this season.
"I feel like we're coming along great," he said. "We've become closer every week. We've become closer friends, brothers, teammates every week. So I feel like we're coming along real well and it's starting to show."
And that winning euphoria finally arrived in last week's NFL-shaking win at the Rams. Becton wants more of that, for himself and his band of brothers.
"It was a long time coming. I've been wanting that feeling for a while, so it felt really great," he said, adding that at practice, "the whole vibe was different, everybody was happy. We want to get that feeling again."
See the Top Photos from Practice at 1 Jets Drive