Some have called Darron Lee cocky during his football career, although the Jets' first-round draft pick out of Ohio State hardly seems that while talking with reporters at this weekend's rookie minicamp. Confident? Yes. Smooth in front of the cameras? Unquestionably. Cocky? Not exactly.
But there is another name that stuck to him during his two playing seasons with the Buckeyes and that has accompanied him here
It's a nickname bestowed on special talents in the sports world, and Lee told us how he got his version of the name at OSU: from fellow first-round selection Taylor Decker, the tackle who went to the Lions.
"Taylor heard my mom call me 'manchild.' That's what she called me in high school. I was just always bigger, I was just huge growing up," Lee explained. "Then Taylor gave me 'Manimal,' and I felt it was an honor. Taylor is someone I had a high amount of respect for and he's always been about his business. And for him to give me that nickname, it's just like I'll take that and run with it."
It wasn't just his 6'1", 232-pound size but also his speed and what he did with the package while with the Buckeyes that earned him that name. He's gone from being a quarterback/cornerback in high school to safety to outside linebacker at OSU and now to the "Mo" or inside 'backer spot behind Erin Henderson and next to the "Mike," David Harris.
Jenkins Makes It a Tandem
It's interesting that Lee is at "Mo" while Jordan Jenkins, the third-round 'backer from Georgia who was picked 25 years after Jets icon Mo Lewis was selected from UGA in Round 3 in 1991, is in the competition for the "Sam" or strongside LB.
"It's not well-defined yet," Jenkins said today of his role in the defense. "I think I'll be more so the Sam, I think, as of right now. Coach [Mark] Collins may change his mind later. Nothing's set in stone."
We didn't hear of an individual nickname for Jenkins as a Bulldog, although he was part of a three-man linebacker group last year that fashioned itself "the Wolfpack."
As for now he and Lee can share yet one more nickname for each other: roomie. They're staying together during this camp at the Atlantic Health Jets Training Center.
"That's cool," Lee said. "I always heard about him and what he was doing down at Georgia."
"So far me and Darron get along pretty well," Jenkins confirmed. "He fell asleep with his phone in hand yesterday and I was messing with him about that."
Both 'backers said they've talked a bit about making an impact on the Jets defense together for the proverbial next 10 years. Todd Bowles wasn't ready to send them together to Canton on rollerskates, but the head coach has liked what he's seen.
"I like the fact that teammates are getting along. I know they have a lot of work to do, but if they're willing to put in the work, which I think they are, they'll be fine," Bowles said after today's practice, adding that of the Jets' picks at LB, "We're younger, which says a lot. They have a lot of experience they have to replace, and they've got to learn a lot of things. But we're happy with the guys we got."
Mutual Admiration Society
Lee was asked about second-round QB Christian Hackenberg from Penn State, who led off Friday's Notes & Quotes. "Regardless of the naysayers, he was a heck of a quarterback, an exceptional quarterback. He was the leader of that team," Lee said. "It was fun playing him — although he probably didn't think it was fun because we were always beating up on him."
True enough. The Buckeyes beat the Nittany Lions, 31-24 in overtime and 38-10, the past two seasons, and Hackenberg was sacked 10 times in the two games combined, including 1.5 sacks by Lee in 2014.
Hackenberg started the compliments when he said yesterday, "I love playing against D.Lee. He presented some challenges for us. I'm happy he's on my team now."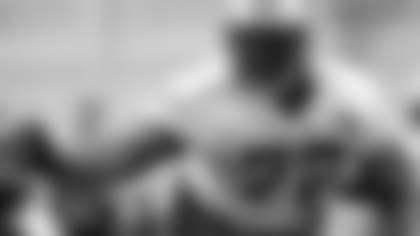 Hackenberg again hit on the long ball, dropping a gorgeous pass to Temple product Robby Anderson. ... S Alex Wells (UDFA, Temple) got a pick-six after a short Hackenberg toss went off the hands of RB Romar Morris (tryout, North Carolina). ... CB Kevin Short (1st-year player, Fort Scott CC) couldn't snare a pass from QB Liam Nadler (tryout, Gannon), but S Peni Vea (tryout, UNLV) did intercept Nadler. ... Fifth-round pick Brandon Shell (above photo) worked at LT through the first two practices.