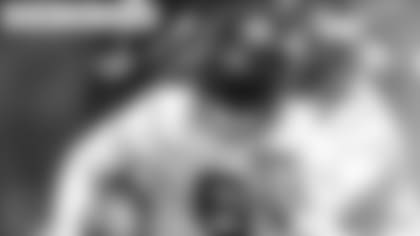 While WR Mecole Hardman Jr. had to rehab following core surgery this offseason and is learning a new offense with a new team, he is "starting to feel good" a couple of weeks into his first training camp with the Jets.
"I think every day you learn something different, and you get more comfortable with certain concepts and certain signals," Hardman said. "I think it's coming along pretty well."
Hardman suffered an abdominal injury last November, which caused him to miss two months of playing time in Kansas City. He played in the Chiefs' AFC Championship win over the Bengals but a reaggravation of the injury forced Hardman to miss the Super Bowl. Now fully healthy, Hardman is soaking up every minute on the field to build a connection with his new quarterback, Aaron Rodgers.
"Yeah, we're continuing trying to build the chemistry," Hardman said. "Aaron is a tricky guy when it comes to certain things, but I think it comes with time. I think we still need to get on the same page. For us, like quick game and intermediate, I think we're pretty fine. As far as the deep ball go, we got to figure out when we're going to back shoulder and when we're going to throw it over the top, so that's coming. But other than that, we are doing well."
Hardman didn't participate in the Jets' Organized Team Activities (OTAs) this spring due to his rehab schedule. However, head coach Robert Saleh has seen Hardman's progress in camp and knows he has yet to reach his full potential.
"He's coming along well," Saleh said. "For him, just slowly progressing back and regaining all that speed that we know that he has. He wasn't very active during OTAs, just working on his body and all that stuff, so he's still playing catch up, but at the same time, you see flashes. You see the type of player he is. He's not even close to where we know he's going to be and excited about the progress he's making."
In eight games last season, Hardman had 25 receptions for 297 receiving yards and four touchdowns while also rushing for 31 yards and two touchdowns. Listed atop the Jets' unofficial depth chart at both return spots, Hardman has averaged 9.0 yards on his 62 punt returns and 23.8 yards on 39 kick returns. A healthy Hardman caught 100 balls from Patrick Mahomes in Kansas City in 2020-21 while totaling 9 receiving TDs. While he found success with Patrick Mahomes in Kansas City, Aaron Rodgers presents a different challenge.
"You got to be very alert, because Aaron is good at throwing you exactly open," Hardman said. "Most quarterbacks I've seen struggle with putting it where it needs to be. With Aaron, man, he tells you before the play, 'be ready for it'. So, as a receiver, we just have to be ready, be alert, know what he's looking for, and what spot you need to get to. That comes with play over play, just watching the film, and knowing exactly where to go."
Hardman, who caught a Rodgers pass in a two-minute situation during Sunday's practice, has the luxury of going from one future Hall of Famer signal-caller in Kansas City to another in New York.
"I mean, the guy's been doing it 19 years and he hasn't been at the top of his game for this long for no reason," Hardman said. "So, when he's on the field, you got a chance regardless of wherever you are, you feel like you got a chance to go score. So having that kind of kind of caliber guy in the backfield, anything's possible."