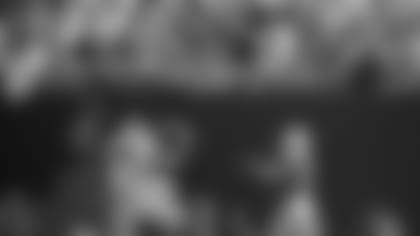 Twenty-two years after taking his last snap as a New York Jet, Erik McMillan has returned to the organization. The former defensive back is getting his first exposure as an NFL coach through the Bill Walsh Minority Coaching Fellowship.
"Last year I was watching the Jets – I was sitting there and I said to myself I really want to be a part of this," said McMillan. "It's an awesome opportunity, I'm very thankful to Bill Walsh and all of my predecessors who have gone through it and eventually became NFL coaches."
In 1988, McMillan was named the AP NFL Defensive Rookie of the Year and led the AFC with eight interceptions. He was also the first Jets player to make the Pro Bowl in his first two seasons. The 6'2'' 197-pounder, who played both cornerback and safety, has spent the last five years coaching defensive backs at East Side High School in Atlanta, GA.
"My biggest influence was to get back into the game that I loved so much," the St. Louis native said. "I'm looking forward to being surrounded by Gotham Green once again. I want to be on the big stage."
In 51 starts for the Jets, McMillan put up impressive numbers for the Green & White while totaling 22 interceptions and five touchdowns.
"I don't think anyone in America would question if I bleed green or not," McMillan said. "There's a lot of passion there that maybe somebody who has never played for the Jets would have. I played for them: blood, sweat and tears."
McMillan will now work under a former peer in Todd Bowles, who also played defensive back in the NFL.
"There's symmetry there. We are both around the same age, played in the same era and have been around some of the same influences," McMillan said. "I remember him extremely well — he was a heck of a football player. Todd was extremely smart. He picked up offensive game plans and schemes and he'd adjust your helmet for you too if you didn't watch it."
It's been over two decades since McMillan has played in the NFL. Now he's back on the gridiron in a different capacity, wearing his coaching hat.
"There's a lot of things about the game that have changed since I played, so there has to be some rules on the professional level that I'll be unfamiliar with," McMillan said of his new role. "I played with a lot of emotion when I was a player – I can't play with that same emotion when I coach – I need to be calm and cool."
The Jets, who have had a number of coaches graduate from the league's minority coaching program including ­assistant head coach Mike Caldwell, wide receivers coach Karl Dorrell, running backs coach Marcel Shipp and defensive backs assistant Daylon McCutcheon, will also have former LB Marvin Jones participate in this year's fellowship.