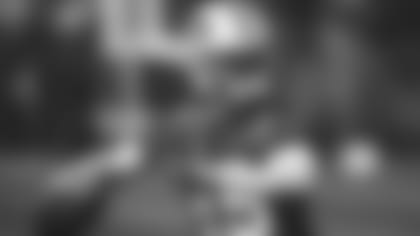 After strong springs from both veteran newcomer Teddy Bridgewater and talented rookie Sam Darnold, Josh McCown will head to training camp atop the depth chart. But nothing is promised beyond that.
"Josh will start come training camp and we will see what happens at the end of training camp," said Jets head coach Todd Bowles as the team's mandatory minicamp concluded.
McCown re-signed with the Green & White in March after establishing career highs last season with 2,926 yards passing and 18 scoring tosses. He connected on 67.3% of his passes, which ranked third in the NFL when he was placed on injured reserve after breaking his left hand in a Week 14 contest at Denver. Now back healthy, the 39-year-old McCown is being challenged by a pair of first-round talents in the 25-year-old Bridgewater and the 21-year-old Darnold.
"For me, to grow is just competing with these young guys. These young guys that can come in and have different skill sets and make different throws, so that pushes me," he said during spring workouts. "When you have two other quarterbacks on the roster that we believe are starting quarterbacks in this league and when you have that kind of dynamic in the room — it gets competitive and it pushes you. You walk out there and know Teddy is going to bring his A-game and Sam is improving every day."
McCown, a Sam Houston State product who was a third-round pick of the Arizona Cardinals in the 2002 Draft, is on his 10th team and is entering his 16th pro season. He has been in a lot of quarterback rooms, but this one stands out above the rest.
"You have to be on top of it. So, for me, I think I allow their presence to help me even more as I focus on how I am going to perform because it pushes you," he said. "It is a great dynamic. I love this room as much as any one I've been in 17 years because not only of character but because of the skill set."
While Bridgewater has 28 career regular-season starts, the former Vikings signal caller was limited to just a handful of snaps last season after injuring his knee in 2016. Darnold is learning a new language and seeing everything for the first time. McCown, who went 5-8 as a starter last season for the Green & White, has experienced a lot in his career while bouncing around the NFL.
"There are a lot of things that can happen. The longer you play, the more you cut down the possibilities," he said. "But still the number of things the defense can throw at you and the number of plays that you can run — sometimes you haven't seen the look and (it's) like, 'Oh man, I've never seen a defense look like that.' So you are always learning in that regard. The knowledge that I have gained is what you can share with Teddy and Teddy can share it with Sam."
The Jets have a new offensive coordinator, but Jeremy Bates isn't new to McCown at all. After serving as McCown's QB coach with the Bears (2012) and the Jets (2017), Bates has added play-calling reins to his title.
"It has been great. Bates has done a good job of carrying some things over," McCown said. "I think that there was a great foundation laid last year, especially some of the stuff that we did in the passing game, with where we want to be. Now, we are in year two and we are growing that."
A beloved figure in the locker room, McCown briefly contemplated retirement in the offseason before giving it another go. He keeps himself in impeccable shape and would like to extend his run as a starting quarterback. He will get that chance this summer.
The Best Images from Workouts, OTAs and Minicamp