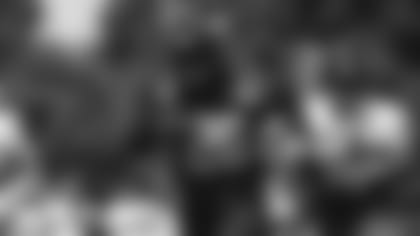 Former NFL running back and current NFL.com analyst Maurice Jones-Drew recently ranked all 32 starting RBs in the league and Le'Veon Bell came in at No. 3.
"It's going to be weird to see Le'Veon Bell donning green this season. Real weird," Jones-Drew wrote. "Of all the running backs who switched teams this offseason, no move was bigger than Bell's, as he signed with the New York Jets in free agency after not playing a single snap during his contract dispute with the Pittsburgh Steelers in 2018."
After sitting out the 2018 campaign, the 6'1", 225-pounder signed with the Jets in March and said he feels like he's in the best shape of his life. The sixth-year player attended the Jets' mandatory minicamp in June and is excited to hit the ground running when training camp opens in late July.
"Looking forward to seeing Bell back on the field after a year off," Jones-Drew said. "With positive reports on Bell coming out of Jets' minicamp, I'm expecting the fresh veteran back to be a nightmare for defenses. The last time Bell played a full season (2017) he was an absolute game-wrecker: 321 carries, 1,291 rush yards, nine rush TDs; 85 receptions, 655 receiving yards and two rec. TDs. Adam Gase should be licking his chops as we speak."