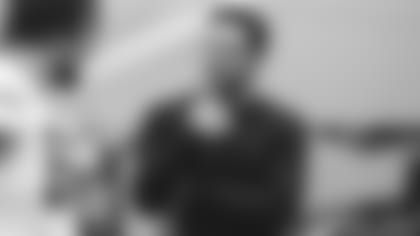 Even at 35 (soon to be 36) years old, Mark Sanchez sounds grateful and as excited as the first day he rolled up to One Jets Drive in 2009 as a fresh-faced college star who would soon be going from "Hollywood to Broadway."
"This is my first time back, I just realized on the ride over with Nick [Mangold]," Sanchez told senior team reporter Eric Allen on a recent edition of "The Official Jets Podcast." "Really, cool, wonderful memories come flooding back. This place means the world to me. This is the place where I was first on my own really. I went to college [USC] almost down the street from my house. And coming to New York was a part of me growing up, part of me learning how to be a quarterback, and part of me embracing this franchise because it embraced me."
But before he arrived in North Jersey from California, Sanchez said that he and his college coach, Pete Carroll, endured an inadvertent media frenzy that left them both scratching their heads.
"The day of the press conference, where I announced for the draft, there was a headline that there was bad blood between me and Pete," Sanchez said. "What people don't know is that the night before the presser Pete was in my apartment until 2 a.m., eating In-N-Out cheeseburgers and talking. He's recruiting me to stay. The next day wasn't a shock for him, but he said he didn't think it was the best move. I told him I respected that, but I just felt it was the right time for me to make the move. He gave me a big hug. We have the presser and it explodes. He calls me and says, 'dude, of course I want you to do well and I will root for you. It just came out the wrong way.' "
Before the draft, the Jets held a private workout with Sanchez in California overseen by offensive coordinator Brian Schottenheimer, Matt Cavanaugh, general manager Mike Tannenbaum, Jets chairman Woody Johnson, and of course head coach Rex Ryan.
"So we go out to dinner afterward, and Rex loves this story," said Sanchez, now an NFL color analyst for Fox Sports after a stint doing college games for ESPN. "We walk out of the restaurant as a group, and I see a motorcycle parked and the helmet hanging on it. I walked over, it felt so comfortable and I'm thinking, 'I really hope I go to this team, but I don't think it's going to happen.' I never thought they'd trade up.
"So I grab the helmet and pretend to get on the bike, and Rex goes, 'Yeah, that's our guy.' The look on Mr. Johnson's face was something like, 'tell me this isn't real.' "
After the 2009 NFL Combine, Sanchez, along with Matthew Stafford, were rated as the top two quarterbacks in that draft. The Jets held the No. 17 pick, but traded up to No. 5 with the Cleveland Browns, trading three players and draft capital to nab a guy who played three seasons for Carroll and the Trojans, completing 64.3% of his passes for 41 TDs (16 INTs). New York was the place Sanchez wanted to start his professional career and he experienced immediate success while taking advantage of his new home.
"My parents took me to see 'Lion King' and 'Oliver Twist' when I was a kid, so I always had an affinity for the arts and theater, and there's no better place in the world," he said. "I come to play for the Jets and get to go to shows, get invited to premieres and I took advantage. I even got a lot of the guys to go and even though they would never say they enjoyed it, the wives did. I was making them more cultured. I had an agenda, but they didn't need to know details."
Landing with the Jets, Sanchez acknowledged that he entered a unique situation -- a young gunslinger surrounded by a mostly veteran group. That combination turned out to be special for the Jets in 2009 and 2010 as the team advanced to the AFC championship game each season, unable, however, to clear the final hurdle to the Super Bowl.
On the outside looking in the past couple of years, Sanchez said he's watched as general manager Joe Douglas and head coach Robert Saleh have weathered the tough times and prepared themselves well for the coming seasons.
"I said two drafts ago that if they can withstand the external pressure of building something the right way, drafting and developing, adding key pieces, they'd be fine," Sanchez said. "And the quarterback [Zach Wilson] can sling it, he'll be fine and get better and better as he gets more experience. They drafted Breece Hall. Are you kidding me? The guy's a baller. I had a ton of Iowa State games. The dude is going to be good. And [Braxton Berrios] you need a guy like that, a glue-type of guy from the neck up."
Sanchez will be the first to recognize that he and Wilson were dropped into different situations when they joined the Jets -- a rookie surrounded by vets compared to a rookie surrounded by other equally inexperienced players (for the most part).
"I love his mentality, that he has no problem cutting the thing loose," Sanchez said. "Part of being a rookie quarterback is that people do make comparisons. But it's not me and Zach, but the team, the potential at the time of the draft. This is a young team, I got drafted to a vet team. As a rookie, does the team help win games in spite of quarterback? Hell, yeah. As you learn, you become the reason why you win some games.
"In my second year, we beat Houston, Detroit and Cleveland on the last play of the game, three in a row. It all works together. Zach figuring it out last year, testing what he can't get away with. Now he's got the same scheme and he got a chance to step away [missing four games to injury last season] and watch, and I think he learned a lot. I think he's on the right track. Talent-wise he's through the roof. Now it's from the neck up, learn when to cut bait and not force it on third down. It's easy to see from the outside that he's a gunslinger. He's got the drive and work ethic. I'm seeing everything I need to see."
The man who came to be known as the "Sanchize" during his four seasons in Green & White said he cherishes every moment of his time with the Jets.
"I don't know what kind of experience a 22-year-old could have dreamt of," he said. "I got to learn about relationships, the business side of football, got to meet the people I met. Other than not winning the Super Bowl, I feel like I did it all, getting there would have been one piece of unfinished business. I enjoyed every second. An absolute blast. The best time of my life."