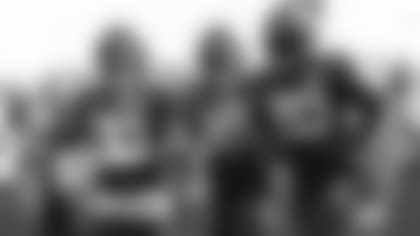 Safety Marcus Maye is the Jets player with the longest tenure -- entering his fifth season -- on the team with the youngest roster in the NFL -- at 25.1 years.
"I think about it sometimes, it does feel weird that it's five years and being the longest-tenured guy," Maye, 28, told reporters after practice at the Atlantic Health Jets Training Center on Thursday. "You just got to come in and adjust, learn a new way, learn on the fly."
Maye is certainly not the oldest guy on the active roster (that distinction belongs to Greg Van Roten, 31), though he now finds himself sharing the DBs room with a handful of young and eager rookie cornerbacks. That's especially true heading into the Labor Day Weekend after the Jets cut Bless Austin, a starter the past two seasons, on Wednesday.
"It was surprising for me," Maye said. "I didn't see it coming at all, I don't think anybody did. Now I have to get better at communicating with the young guys. Get them up to speed, keep them on their toes. Nothing different on my end -- communicate and play ball.
"But these young guys, they're not scared at all. They all want to learn, they all have the passion each day and come out to get better and better. I see them stacking their days. They all can fly around, come up and make tackles. It will be interesting to see all those guys get a shot."
When it comes to learning, the former Florida Gator is working with his third coaching staff, third defensive scheme, but with a lot of new twists.
He was asked to delve into what's different and how he has dealt with constant change -- among the coaching staff and his teammates.
"They're doing a great job treating us all the same, old and young," he said, referring to the coaches. "They keep everyone on the same page, hold everyone accountable the same way. I like that. They do listen to us, they ask us for a lot of feedback. How can I help? And vice versa. They're making sure everyone is doing well and getting the job done.
"It's kind of been like that since I've been here, each year just learning to adapt to what's new. You can't necessarily worry about what year guys are in or how many years they've played in the league. We all have to find a way to get on the same page so we can win games."
The lion's share of the work at safety is expected to go to Maye and Lamarcus Joyner, signed in free agency from the Raiders in the offseason. Ashtyn Davis also could work his way onto the field in some packages.
For the 2021 season, the Jets tagged Maye as their franchise player and then the sides could not reach agreement on a new contract before the start of training camp.
"Once that was over with, I just put it to the side and got back to the basics of playing football," he said. "Once I get on the grass I never worry about anything else."
Asked which is more important, winning games or being among the highest-paid safeties in the NFL, Maye said: "Winning games is first, that's what you play the game for. Also taking care of your family and making sure you're set up for the future. Control the controllables. If you have no control over something, there's no point in getting all upset. If you're not here to win games, then what are you doing this for?"
With the next three days off before the Jets return to practice on Monday to prepare for their 2021 NFL season opener at Carolina on Sept. 12, No. 20 said that he's ready for his next adventure.
"I'm just finding where I belong in the new system," Maye said. "I'm still trying to get into the swing of things. I'm not where I want to be. I have to go out and do it every day."
See the Top Photos from a Sun-Splashed Day at 1 Jets Drive