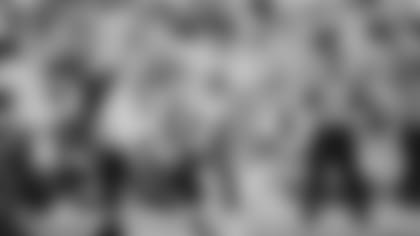 Quarterback Luke Falk was anything but starry-eyed following his first NFL start.
"I think when you walk away and don't score points, you're pretty frustrated," Falk said grimly following the Jets' 30-14 loss to the Patriots at Gillette Stadium today. "There'll be a lot to learn from from the film. They're a good team, credit to them, they played a good game. We've got to go into the bye week and work on a few things and be able to score some points."
Scoring points is of primary importance. Since the third quarter of the season opener vs. Buffalo, the Jets' offense has managed no touchdowns and one field goal. The two TDs vs. New England came on Arthur Maulet's end zone recovery of rookie Gunner Olsewski's muffed punt and Jamal Adams' 60-yard interception return of rookie QB Jarrett Stidham, who made a quick entrance and exit late in the game for Tom Brady.
Falk shouldered a lot of the offense's struggles. His only interception bothered him, seeing how it came on third-and-2 from the Jets 16, on an "errant" throw that he called a "bad decision," on the Green & White's first series of the third quarter and set up a Patriots field goal.
"I think when we got things rolling, we shot ourselves in the foot," he said. "I can't throw that pick to start our half off. We just weren't able to get things clicking. We can't have negative plays, and that's my job, to put us in the end zone, and I didn't do that today."
The pick was one of several unfortunate plays, with many of them coming on third down. Seven times the Jets faced third-and-12 or longer. Falk was sacked on two of those plays, and Le'Veon Bell, try as he might, was stopped short of the sticks on five third downs in all.
As a result, the Jets were held to 0-for-12 on third down conversions, the ninth time they went without a conversion in a game in franchise history and the first time since going 0-for-12 in the 2017 season finale at Gillette.
Falk was asked about positives and he had a candid answer: "We've got to go find the positives right now."
After a half-second, he replied, "I thought operation-wise it was OK. I think it will be just overall a good lesson that when you play a team like this, you can't have errors, you've got to get going early. I thought our first drive, we did some good things, but on that third down [third-and-6 incompletion to Braxton Berrios], we've got to convert, we've got to find ways to make plays on critical downs."
The Jets and their fans, meaning no offense to Falk today, would like to see Sam Darnold return from his bout with mono in two weeks to take the O's reins once more. But there remains the chance that Darnold won't be medically cleared and the ball could again be in Falk's court, this time in Philadelphia. What then?
Falk again stressed "no negative plays, can't take sacks, can't have penalties." But he added that, regardless of which QB gets the nod in two weeks, "It'll be a good bye week for us to, I guess, find our identity and get things going."