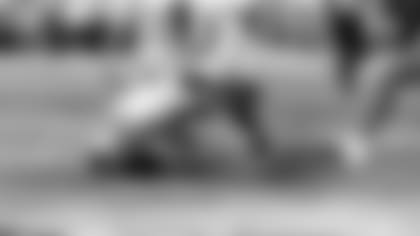 Quotes from the Jets' and Lions' Ford Field locker rooms following the Jets' 48-17 victory over the Lions on Monday night:
Jets HC Todd Bowles on his postgame message to his team...
"It's a great start to the season but it's only Week 1. Tomorrow we forget all about it, they have a day off. Wednesday we have to come in and [prepare for] Miami. We have 15 more of these to go. So these are short-lived, it changes every week. It's a great start to the season, but we know we have our work cut out for us."
Bowles on Darnold's first-pass interception...
"He didn't flinch, he didn't even blink. I can sit here and tell you we planned that so he could get the jitters out, but we didn't. He came back and nobody flinched on the sideline. ... It was the first play of the game. He didn't have a chance to blink, but that's not his nature. He came back and played good football."
Bowles on the Jets fans who could be heard late in the game at Ford Field...
"It's always good to have fans on the road when you're winning. Like I've said, it's a loud place. If you're winning it gets quiet and if you're losing it gets loud. We were winning and it got very quiet."
Sam Darnold on if he was nervous in making his first NFL start...
"Yeah, so on that interception I was pretty nervous, I'm not going to lie to you guys. But after that, I put it behind me. I think after the crowd got really loud after that pick, it was just, 'Oh, shoot.' And then I was like, 'OK, here we go.' You know, it can't get much worse than that, so it was really that kind of thinking that was going on in my head and then just play it and I knew that we had a good team, we have a really, really good team. So I knew that if I just did my job, took what the defense gave me, that I was going to be able to go out there and look back and have a successful game."
Sam Darnold on the support he's gotten from players like DL Steve McLendon and the rest of the Jets D...
"I think we've all rallied around each other. Big Mac, he's been saying it from the start. We break every breakdown with 'Champions' because that's what we believe. I'm really excited about this team and what we've got for the future. But in this league, it's one game at a time."
RB Isaiah Crowell on his 62-yard TD run late in the third quarter...
"Really, my O-line, they did a wonderful job. They just opened up the hole and I just ran through it. Basically, I'm really speechless about it because it was just wide open. I couldn't believe it."
WR Robby Anderson on the offense's play in the win over the Lions...
"I think we definitely set a tone, set a standard. Now we've got to keep the momentum going."
Jets LB Darron Lee on the defense's response after Darnold's first-pass pick-six...
"When it happened, everybody told Sam, 'You're fine, we got you.' Even when he first got here we told him, 'You win the job, we've got a good defense here, we got you.' We told him that from day one. And we upheld our promise to him today."
Jets DL Leonard Williams on the Green & White defense coming up with five interceptions...
"The chemistry and the belief in one another on the team is outstanding. ... We had great field position overall. We were just trudging along the whole way. We kept fighting the whole time. That's what we need to do the whole season."
PR Andre Roberts on what his mindset was going into this game...
"My mindset going into every game is to score a touchdown. I know that's not going to happen, but you should have that mindset. It doesn't matter if you're on offense or defense. All that matters is that you have that mindset."