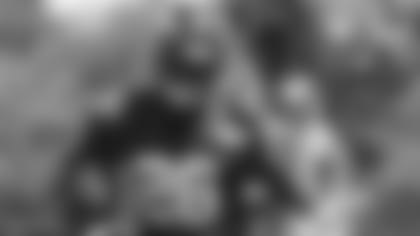 There were a lot of little details that told Le'Veon Bell how fine it was for him to be with his team and his teammates for the Jets' mandatory minicamp this week.
"It felt so GOOOD," Bell said with vigor. "I'm excited. I'm out there for my first practice in over a year. It was amazing to just run around, trash-talk, catch some balls and just sweat in your helmet. Things that you kind of take for granted when you're playing. But the fact that I had the whole year off and came out here and played football again, it felt so good."
Another thing he noticed that was perhaps a little different than his time in Pittsburgh was that at today's first practice of camp, No. 26 was not just one of several focal points of the offense but perhaps the main focus of this offense on this day.
"Gradually, over the course of four or five years, guys were looking at me, but it was different. We had Ben [Roethlisberger], we had AB [Antonio Brown]," Bell said. "Today I noticed guys are really watching me, which is a good thing. I love the fact that guys are leaning on me, counting on me. That's why I'm trying to let nobody down."
Fans may still want to press the point that the superstar unrestricted free agent could've felt all these things sooner if he had been with his new team for the past month instead of working out on his own. And he confirmed today that even though head coach Adam Gase will hold another week of OTAs next week before the players split, he will return to Florida after the minicamp to train.
But that's the way Bell has done it in building himself into one of the NFL's top backs, especially over his last four seasons playing for the Steelers from 2014-17, when he dazzled with his unique running style and production of 100 rushing yards a game, 1,200 a season and close to 2,000 yards from scrimmage a year in his three Pro Bowl campaigns.
"I want to go out there and be the best me," he said with one of his trademark phrases that Jets fans will get to know. "That's why I was training one-on-one with my trainer, getting to where I need to get to make sure I'm shape when I come here and I can take every snap if they ask me to. ... I was asking them to take more snaps but they were looking out for me — 'Le'Veon, it's a long season.' But I was excited just to be out there."
As for picking up the new offense, Bell and head coach Adam Gase are in agreement: He's behind, but he won't be for long. He said he spoke daily with Gase and also checked in a lot with RB Ty Montgomery. And he made sure he stuck close to Sam Darnold and the QBs today even when he wasn't in a play just to pick up all the play-calling nuances he'll need to know.
"Of course, just because of the fact that they've been here longer, they've heard the terminology longer," he said of his teammates. "But football is football. The terminology here is different than where I was before. But it's still maybe the same play I might be doing, the same route, but it's just me putting the play together. That's why I wasn't worried about coming here and learning the offense and things like that. I feel like I'm a smart player and I'm going to show people that."
Bell isn't worried about those fans who may have forgotten how dominant he was before sitting out last season.
"Maybe people forgotten a little bit because they haven't seen it in a long time. It's normal. That's what humans do," he said. "But I feel like once I get here and play, first game coming up, people will be reminded. Right now is not the time. Right now I'm just trying to work on myself to be better, learn the offense, learn my guys, get comfortable, challenge the defense, and go out there and compete right now. That's what I'm really looking forward to."